Magnus Ahlqvist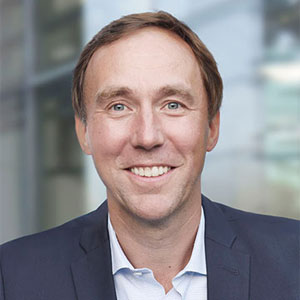 Magnus Ahlqvist
Divisional President, Security Services Europe,
Securitas Security Services Ltd
Magnus Ahlqvist joined Securitas in September 2015. Prior to joining Securitas, he has held various management positions in the telecommunications industry. Magnus most recently served as Corporate Vice President, EMEA & India after joining Google-owned Motorola Mobility. Before, he worked 12 years for Sony and Sony Ericsson Mobile Communications as President for Greater China, General Manager Spain & Portugal and General Manager Canada.
News mentions
Securitas' new brand delivers an original tone of voice, visual identity, and a positive, proactive storytelling agenda. It will be visible on Securitas' personnel uniforms, vehicles, equipment, and facilities, as well as the company's digital tools and online channels. The brand will be rolled out gradually across the company's worldwide operations. The tagline 'See a different world' emphasizes the expertise and diversity of Securitas' people and the innovativeness and relevance of its offerings. It is intended to resonate with audiences within and beyond the security business and to enable Securitas to engage in conversations with a wider range of stakeholders. Transforming security industry Magnus Ahlqvist, President and CEO, Securitas: "Our new brand shows the world who we are and where we're going. It builds on Securitas' proud heritage and values of integrity, vigilance, and helpfulness, and focuses on our unique people and high-impact technology. We work with many of the world's most recognizable companies, and our new identity makes it clear how we can help create a more sustainable and inclusive future together with our clients and partners. It will open even more doors for our business and accelerate our strategy execution." Shaun Kennedy, Country President, Securitas UK comments: "At a UK level this is an exciting opportunity to differentiate ourselves as a world-leading organization, showing our commitment to the future with a significant step change and approach. We aim to transform the Security industry in the UK and our new brand identity and positioning are key steps in our strategy for progressive business growth in 2021 and beyond." Aims to double sales of security solutions In the UK Securitas employs around 9,000 employees, with 355,000 employees globally serving more than 150,000 clients in total across 48 markets. The company is accelerating its digital transformation through investing in data-driven tools and analytics and by interacting with clients in innovative ways and aims to double its sales of electronic security and security solutions by 2023. Mauro Silva, VP Brand and Strategic Marketing, Securitas: "This is a milestone for our company and our industry. We reflected on our strategy, our world and what clients expect from us today and saw an opportunity for differentiation. Securitas is a knowledge-driven company where engaged and talented people make a positive difference every day. This brand expresses our confidence in the future, while remaining true to our heritage and people, and makes our leadership clearer than ever."
Securitas is acquiring STANLEY Security's electronic security businesses in Germany, Portugal, Switzerland, Singapore and India. The acquisition is aligned with Securitas' ambition to double the size of its security solutions & electronic security business and expands Securitas' electronic security footprint and capabilities. The purchase price is estimated to MUSD 64 (MSEK 563). The entities to be acquired provide an integrated electronic security offering to their clients - from design to installation and from maintenance to alarm monitoring – based on a complete portfolio of advanced security solutions such as access control, intrusion, video, fire and integrated systems. Electronic security specialists The business has approximately 580 highly skilled employees operating in five countries through 20 branch offices out of which 11 are located in Germany. The business also has two alarm monitoring centers, one in Germany and one in Portugal. Total sales of the in-scope business amounted to MUSD 85 (MSEK 748) in 2019, mainly driven from installation sales, recurring monthly revenue and maintenance services. "We are very excited to welcome the electronic security specialists from STANLEY Security to Securitas. Through this acquisition, we add significant electronic security expertise and deepen our capabilities in Germany, Switzerland and Portugal, while also establishing our first electronic security presence in Singapore and India. This is an important step forward to deliver high-quality electronic security services to our clients in key markets," says Magnus Ahlqvist, Securitas President and CEO. The acquisition-related costs are expected to be MSEK 60, some to be recognized in 2020 but mostly in 2021. The acquisition is expected to be EPS accretive as of 2022. The acquisition will require customary regulatory approvals and is expected to close during the fourth quarter of 2020.
Experts sections