Klaus U. Klosa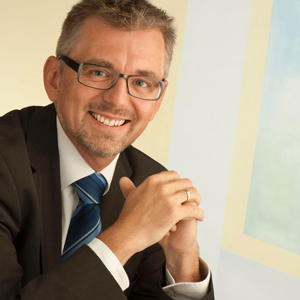 Klaus U. Klosa
Managing director,
LEGIC Identsystems Ltd
Klaus U. Klosa is working for over 20 years in the smart card industry. The focus during his first years at Temic Semiconductors was on RFID for container and animal identification as well as car immobilizers. He then joined Infineon Technologies, where he held different management positions and was responsible for the contactless smart card activities. Klaus U. Klosa did actively contribute to the ISO14443 and ISO15693 standards. He holds several patents in this field.
News mentions
Using Connect, the process of deploying electronic room keys to cell phones is fast From now on, guests of The Woodlands Resort & Conference Center near Houston, Texas can open their hotel room with their own smartphone. LEGIC provides its secure and proven trusted service LEGIC Connect. The latter deploys smartcards onto smartphones – at the touch of a button. The Woodlands Resort & Conference Center with its 406 rooms is the first hotel in Texas providing its guests a very special experience: access a room, call an elevator or open external entry doors by simply holding the personal smartphone up to the reader. This new, state-of-the-art technology is provided by LEGIC Connect and Kaba's mobile access solutions. At the Woodlands property, which is owned by The Howard Hughes Corporation, LEGIC Connect facilitated a fast mobile set up and now, it ensures a reliable and highly secure guest experience. Based on LEGIC's Software Development Kit, Woodlands' own app was created. Simple, But Efficient The new guest experience is simple: guests book their room on Woodland's website and download the free hotel app. As soon as their personal room is ready, they receive the Bluetooth-enabled room key wirelessly onto their mobile phones. They don't need to queue at the reception and wait for a key card. Klaus U. Klosa, LEGIC's Managing Director is convinced of the new technology: "LEGIC Connect not only relieves administrative work for hotels, it also reduces costs and improves guest satisfaction." LEGIC recently published a free value calculator hotels can use to calculate their individual potential cost savings. LEGIC Connect – Security First Using Connect, the process of deploying electronic room keys to cell phones is fast, simple, secure and stays in the background. The heart of the system is a well-designed security concept by LEGIC experts with over 20 years' experience in the security industry. Two fully redundant certified data centers with several tamper proven hardware security modules transfer an encrypted "secure authorization" to the hotel guest's mobile phone. This authorization is only decrypted when holding the smartphone in front of the room door lock.
The number of participants this year totaled more than 1000 people, all of whom used LEGIC entry card From 7th - 8th May 2015, the 45th St. Gallen Symposium took place in Eastern Switzerland. Under the motto of "Proudly Small" Executive Chairmen, Directors and Professors gathered from all over the world. Everything of note in the worlds of politics and business found representation at the occasion. LEGIC once again sponsored all of the transponder chips for the entry tickets in the form of smart cards. The St. Gallen Symposium is an annual occasion which is organized on a voluntary basis by the International Students' Committee (ISC). Its focus is on encouraging a lively exchange in the fields of management, politics and society. The topics which are of relevance in today's world were discussed over the course of two exciting days of discussions, interesting lectures and intensive networking. The number of participants increases every year and this year totaled more than 1000 people, all of whom identified themselves with the LEGIC entry card. Famous Faces The participants included 700 decision-makers from the worlds of business, politics and science, 100 media representatives and 250 students from all over the world. This year the speakers included famous names such as Member of the Swiss Federal Council Johann Schneider-Ammann, Nick Hayek (CEO Swatch Group), Anders Fogh Rasmussen (former General Secretary of NATO) and Thomas Jordan (SNB President). LEGIC Supported Students' Commitment LEGIC is enthused by the work and commitment of the students who arrange this occasion every year. "We are pleased to have contributed to the success of this event with the LEGIC technology", mentions Klaus U. Klosa, Managing Director of LEGIC Identsystems Ltd.
Experts sections