Francisco Alapont Navarro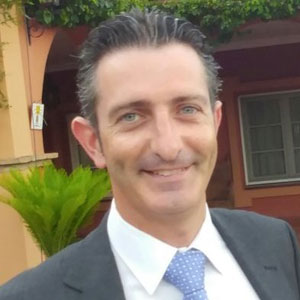 Francisco Alapont Navarro
Solutions Director,
Fermax Electrónica S.A.U.
Francisco Alapont works for Fermax as Solutions Director. Prior to this role he worked for Orange between 2000-2016.
News mentions
IP video intercom systems are becoming more popular not only in industrial environments but also in residential projects. Security business has moved towards IP technology. Video intercom, on the other hand, is a key system that should be considered as a link between the user and the security systems due to its integration capabilities. With MEET, it's easy to integrate video surveillance systems and receive alarms at home. It can be integrated with third-party home automation systems and access control solutions. Face recognition, CCTV visualiszation MEET system is a 100% IP technology based on a Point-to-Point infrastructure MEET, the most advanced IP system from FERMAX, was specially designed for residential communication. Secure, reliable and with cutting-edge functionalities, it ensures an outstanding high-quality audio & video, featuring call divert. Moreover, it is easy to install and maintain, with almost unlimited capacity. The system is a 100% IP technology based on a Point-to-Point infrastructure, highly efficient, flexible and powerful. As pointed out by Juan Madrid, Business Development Director and IP Product Manager at FERMAX, "MEET second-generation technology allows our customers to benefit from a top-notch 100% full IP system, even compatible with GPON infrastructure, and a broad range of built in security functions as proximity reader, lift control, face recognition, CCTV visualization and alarm detection". ​Monitoring CCTV cameras The devices communicate directly, so MEET does not require central units or servers which could compromise the availability of the system in the event of an unforeseen error. MEET allows the installer to freely assign the range of IP addresses according to the needs of each project, and thus facilitate the control of the networks in every building. MEET system, has already been successfully adopted by FERMAX integrators worldwide MEET system, launched in January 2018, has already been successfully adopted by FERMAX integrators worldwide. "The market feedback has been very positive, especially due to the flexibility of the system, its capability to integrate with Wiegand controllers or readers and to monitor CCTV cameras through RTSP protocol. All these features allow the system to fulfill project requirements from different markets around the world" assures Francisco Alapont, Solutions Department Director and Digital Business at FERMAX. Home automation integration MEET is the system that brings to life the state-of-the-art digital panels which include a triple access control system: face recognition, keypad and proximity. The system's range is made up of digital panels, one-button panels, touch screen monitors, concierge stations and various accessories. KIN panel, for instance, is an interactive approach featuring touch screen. While being elegant and customizable, it allows the visitor to interact in a simple way with its user interface. MILO panel and MEET Guard Unit are outstanding due to their design and intuitive interaction features. When it comes to the apartments, MEET offers indoor monitors with a simple and compact design. WIT PoE monitor, with its technology and exclusivity, is specially designed for home automation integration and suitable to fit in the most sophisticated environments; MIO monitor, is a symbol of urban and modern residences, represented by its compact and simple design. Single internet connection Our customers will benefit from a wide variety of intercom and security functions in all MEET products" Call Divert function to smartphone has been one of the key goals achieved thanks to MEET ME App, which features a high-resolution image even in portrait mode. It is not only an additional gadget; it is a part of the core features of MEET, which implements by default this function at zero cost. "Connectivity is the cornerstone of FERMAX´s strategy. With MEET system we can offer a seamless and enhanced experience to our installer, connecting our MEET monitors by default without any additional costs related to servers, gateways or licenses. Only one single Internet connection for the building is required." adds Francisco Alapont. Competitiveness is key for FERMAX and MEET IP technology allows to offer a complete bundle of features already built in the product without increasing its price. "Our customers will benefit from a wide variety of intercom and security functions in all MEET products. This adds value to the MEET system and revert back to the installer as a turnkey solution in terms of easiness of installation and cost reduction" says Juan Madrid.
Fermax unveiled their latest technology, including home automation systems and video door entry systems Fermax took part in Intersec 2017, the trade fair for security and safety in the Middle East. Fermax used this opportunity to unveil their latest technology, which offers equipment that integrates home automation systems and video door entry systems for safe, comfortable and efficient homes; their objective being to turn the video door entry system screen into the technological heart of the home. New Video Door Entry System At the 19th edition of Intersec, Fermax proposed new video door entry system devices that integrate home automation solutions. For this reason, Fermax's stand was situated in the 'Smart Homes' pavilion. Using a large but minimalist space with oriental influences, Fermax displayed different technologies for audio and video door entry systems, video door entry and access control systems, advanced outdoor panels and indoor terminals, as well as home automation solutions integrated in video door entry system monitors. All this was presented under the umbrella of the Made in Spain design, showing a commitment for innovation and technological convergence. Fermax Home Automation Without a doubt, the focus for hundreds of visitors to the Fermax stand was DOMINIUM, the Smart Living system presented by the company. This system has been very well-received in the Middle East, where premium quality and design, together with top features in residential constructions, are highly sought-after. The company presented the SMILE TOUCH DOMINIUM monitor with BUSing technology, compatible with KNX and with a 7" touchscreen, whose design is one of the most awarded in Fermax. Thus, the Fermax home automation range includes a new system to manage the home security, comfort and energy efficiency. IP Technology Fermax offers possibilities in terms of contemporary design and IP technology with the new VIVO+ and LYNX monitors Fermax made the most of this occasion to showcase its latest developments in terms of TCP/IP technology and MDS Digital system. The new HI-LINE outdoor panel, as part of the luxury market, offers a sophisticated style, high-durability materials and perfect usability with two touchscreens and dual access control system. Indoors, Fermax can offer a wide range of possibilities in terms of contemporary design and IP technology with the new VIVO+ and the SMILE TOUCH LYNX monitors. VIVO+ further highlights the pure lines and state-of-the-art design of the VIVO monitor with a 10" touchscreen. A new version of the SMILE monitor with IP technology and 7" touchscreen was also exhibited. Both LYNX video door entry systems can integrate home automation management and include DOMINIUM applications into their operative system. MDS Digital Technology The MDS (Multiplexed Digital System) digital technology was also present, as it is a widely-known and recommended system in the MENA region. Combined with VDS, Fermax builds on a differentiated offer: the VEO monitor, with audio handset and 4.3" TFT touchscreen, and the TOUCH version of the SMILE monitor with 7" touchscreen. Specially designed for the Middle East and Asia Pacific regions, Fermax presented a gold version of the SMILE VDS. Outdoors, the new element of the MDS system is the URBANLINE panel, with a clean design in anodized aluminum and touchscreens. Fermax's solutions demonstrate the company's adaptability to the global context and its strong commitment to innovation Centralized Access Control Systems Finally, Fermax also included a new product line specializing in Access Control Systems. On this occasion the focus was placed on the IP technology for Centralized Access Control Systems. Keeping in line with the stand, the IP AXES system was presented as an advanced, intuitive and flexible solution, ideal for medium to large smart buildings and complexes. Fermax Representatives Fermax integrates all the communication, security and comfort technologies for homes and for residential and commercial buildings. The solutions presented at Intersec 2017 demonstrate the company's adaptability to the global context and its strong commitment to innovation with a complete range of products and systems for all types of facilities and installations. The stand was attended by the Fermax team from the Middle East and Turkey. The main representatives from the headquarters attended Intersec 2017: Sergio Maestre, Board of Director's Advisor, Jeremy Palacio, Managing Director, Jean Paul Navarro, Corporate Sales Director, Francisco Alapont, Solutions Director and David Lucas, Area Sales Manager.
Experts sections