Chris Eichmann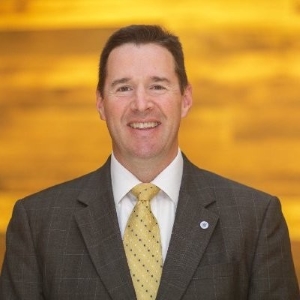 Chris Eichmann
Vice President and General Manager,
Johnson Controls, Inc.
Chris Eichman is currently working in the capacity of vice president and general manager for Global Control Products at Johnson Controls. He has previously worked as the Vice President and General Manager of Global Sales and Marketing at Watlow Electric, as Director of Sales at Kurz-Kasch, as Sales Manager at CyberOptics and as National Sales Manager at Danaher Motion. Chris is an alumnus of the prestigious University of Illinois, Chicago.
News mentions
Johnson Controls, the globally renowned company in the field of smart and sustainable building solutions, has announced the release of its latest version of the Metasys Building Automation System (BAS), the Metasys Release 11.0, which delivers enhanced system performance and new cyber security & diagnostics capabilities. The system's new and updated features will help owners and operators identify and solve issues to avoid equipment failure and excessive energy use, while also providing a flexible modernization path for aging system components. Fault detection & diagnostic capabilities Metasys Release 11.0 introduces a new, licensable Fault Detection and Fault Triage feature suite Metasys Release 11.0 introduces a new, licensable Fault Detection and Fault Triage feature suite. By identifying building system-related faults, in order of severity, and providing suggested possible causes and corrective actions, it helps operators of varying experience levels to quickly and easily identify and troubleshoot issues, so as to keep systems running optimally and building occupants comfortable. Modernizing systems with cyber security Metasys Release 11.0 unveils: Several new models to the high power Metasys hardware platform. New equipment controller models built with total cost in mind, to streamline installation time and costs and provide scalable options for any building management need. A new Supervisory Network Controller Series model includes an on-board interface to give operators the ability to quickly and clearly monitor equipment status, view alarms, see trends, issue overrides, and change set points and parameters. FIPS 140-2 Level 1 Compliance for Metasys Network Engines and Application Servers provides a strong cyber security technique to help prevent unauthorized access to customer systems and data. Metasys 11.0 The increasingly urgent need to protect data and buildings and gain measurable results requires an up-to-date building automation system. Metasys 11.0 provides a flexible modernization path for customers with the porting over of feature functionality from legacy system components and enhanced replacements for aging hardware devices. "We designed Metasys 11.0 to help customers with their most critical outcomes, to protect and secure their building investments and to do their jobs more efficiently," said Chris Eichmann, Vice President and General Manager, Global Controls Products at Johnson Controls. Chris adds, "The seamless connection with OpenBlue will power the next generation of future proofed building systems for our customers." Seamless connection with OpenBlue dynamic platform Metasys connects into the OpenBlue dynamic platform from Johnson Controls Metasys connects into the OpenBlue dynamic platform from Johnson Controls. This connection enables a cost-effective and safer return to the workplace, remote energy management, future proof open technology, digital transformation and award-winning AI to accelerate sustainability and operational efficiency goals. It provides the data historian for the OpenBlue Enterprise Manager and the Building Operation Mode Dashboard as part of the OpenBlue Clean Air set of solutions. OpenBlue was designed with agility, flexibility and scalability in mind to enable buildings to become dynamic spaces for customers that deliver environments that have memory, intelligence and unique identity. Innovations and customer successes First launched in 1990, Metasys Building Automation System (BAS) was one of the first systems to use a personal computer as a host. Since the time of the launch, Metasys has delivered over three decades of continuous innovation by providing new features and enhancements designed to help building operators do their jobs more easily. Now in its third generation, there have been 23 major and minor Metasys releases since 2003. The global Metasys footprint spans all seven continents and includes over 40,000 installations in over 150,000 buildings. In 2015, Metasys Release 7.0 introduced the Metasys user interface, which organizes information according to building spaces and the equipment that serves them, reducing learning time by 96%.
Johnson Controls announces the release of Metasys 10.0, designed to deliver more unified building management. This latest Metasys release provides facility personnel with smarter building automation, faster responses to critical alarms and new integrations with fire detection, security and lighting systems – all with visibility from a single common interface. Metasys 10.0 Integrations Metasys 10.0 introduces a new and improved set of integrations. These include new integrations with C·CURE 9000 Access Control and victor Video Management Systems, and simpler integrations with SIMPLEX Fire Systems and with lighting systems from leading lighting providers. "Metasys has always delivered a strong integrations platform, but we're really excited about how easy we're making it for customers to integrate both HVAC and non-HVAC systems into Metasys 10.0," said Chris Eichmann, vice president and general manager, Global Controls Products, Johnson Controls. "Providing our customers with access to critical system data from a single, intuitively-designed interface makes it faster and easier for them to do their jobs. We're seeing some great early successes at sites like Georgia-Pacific in Atlanta." Metasys Application Programming Interface Metasys API enables data to be securely extracted from Metasys 10.0 and integrated with Johnson Controls or third-party data visualization tools for robust data analysis A new Metasys Application Programming Interface (API) enables data to be securely extracted from Metasys 10.0 and integrated with Johnson Controls or third-party data visualization tools for robust data analysis and reporting. Several new hardware devices were also added to Metasys 10.0, including: Two new equipment controllers with removable screw terminal blocks for easy installation, high capacity memory and fast processing A new 4-in-1 network sensor series with the ability to sense temperature, humidity, CO2 and occupancy – all with one sensor A new TEC3000 thermostat controller with color touchscreen Metasys User Interface (UI) Another innovative feature is Ethernet ring topology support for Metasys IP equipment controllers. Delivered as part of Johnson Controls' collaboration with Cisco, it allows controllers to be configured in a ring network, improving system reliability and resiliency. As part of the new Metasys release, the Metasys User Interface (UI) introduces several new features that reduce operators' time on task. A key feature is the ability for users to schedule reports to be delivered via email and save and execute report templates on demand, reducing time spent configuring and providing reports. Efficient Building Management And Automation For more than a quarter century, Metasys building automation has delivered consistent results to meet even the most complex building management needs. This new major release keeps today's buildings on top of change, with all the Metasys benefits one expects, including: Operational savings through extended building management capabilities and enhanced productivity Energy savings through coordinated control, precise data and peak equipment performance IT and platform security through best-practice processes Faster troubleshooting and response through advanced diagnostics Greater occupant comfort, security and satisfaction
Experts sections