From humble beginnings in 1898, Portsmouth Football Club has grown to become a top English side, finishing the 2006-07 season in the top half of the Premier League table. Narrowly missing qualification for the European Cup by just 2 points, they have ensured their place in this year's FA Cup Final at Wembley Stadium.
Playing at their original Fratton Park ground throughout the club's 110-year history, the stadium has undergone many incarnations and modernisations to keep apace with the demands of modern sports stadia. A key component of this evolvement and to the smooth running of match day events, is a newly installed turnkey Panasonic surveillance solution.
Security keystone
Commissioned into service for the start of the 2007/2008 football season, the Acctive Systems installed CCTV system is the culmination of many years involvement of the company and Panasonic at the ground, and provides the club's organisers with the security keystone they need to support a concerted security effort on match days. In addition, during the week, the new system also provides comprehensive protection for Portsmouth FC's offices and adjacent retail outlets.
Acctive Systems first became involved with Portsmouth FC four years ago, when they were awarded the club's maintenance contract, inheriting an 11 camera legacy system, containing products from a wide variety of manufacturers, and of varying ages. Following the team's recent success, further investment at the club has allowed Jason Kirton, Portsmouth FC's Facilities Manager to take advantage of a security budget that would permit a restructuring of the surveillance operation.
Dan Bishop, Technical Surveyor at Acctive Systems takes up the story: "Our familiarity with the ground provided a solid platform for us to undergo a review of the existing system's weaknesses, and to address those areas highlighted within a completely new system design. Assessing Jason's and his team's needs for the system's deployment on match days and general usage, also gave us the opportunity to fulfill the review's findings with a quality branded solution."
IP network camera system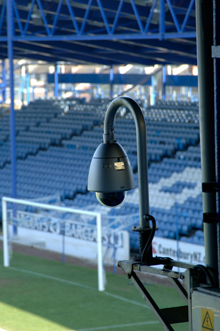 Panasonic's CCTV solution provides an IP networked camera system that utilizes a range of Panasonic products
The CCTV solution provides an IP networked camera system that utilizes nine Panasonic Super Dynamic III WV-CW964 fully functional domes, three WV-CP484 static color/mono Super Dynamic III cameras, and three WV-CW474 high-resolution color/mono vandal resistant static dome cameras. Allowing remote viewing via Portsmouth FC's dedicated IT network, specific computers have been equipped with Panasonic WV-AS65 Management PC Software, to permit authorized monitoring of the Fratton Park ground and its surrounding area. Providing comprehensive coverage of turnstiles, entrances and exits, key thoroughfares, and the whole of the ground's interior, the new system provides Jason and his team of security staff, stewards and police officers, with an integrated surveillance backbone.
Jason explains: "The Panasonic based surveillance system has become invaluable to the smooth and safe running of events and has helped us to meet the safety standards of the Football Association Safety Advisory Group, and as documented in their 'Green Guide'. Right from the beginning of match days, even before the fans arrive, our safety officer and the police match day commander use the system to oversee all parts of the ground and its surrounding area; from the match day control room, which overlooks the playing pitch and stands. Taking control of the cameras, via a Panasonic WV-CU650 system controller and four 17" WV-LC1710 LCD Monitors, they can visually verify that all fan 'footfall roots' are free from obstacles, such as parked cars. When fans start to enter the ground, their progression is constantly monitored. If there are too many fans inside the ground that are not yet seated, fan flow into the ground can be restricted by the gate stewards. Contactable by our dedicated radio network, this allows blockages to clear, and to resume a safe, normal flow. Conversely, we can also increase people-traffic flow into the ground if crowds are building up outside.
"Our ticket office is housed within the Megastore complex of buildings 200 meters from the stadium. Recently built to form the basis of daily operations at Portsmouth FC, this area can also generate another hotspot on match days. Again viewable from ether the match day control room, or any of the WV-AS65 software equipped networked PC's, we can monitor this sensitive area where public order incidents are likely to occur. These may be customer disputes over tickets, or large numbers of visiting away fans collecting tickets, that will need to be carefully monitored whilst on route to the ground itself."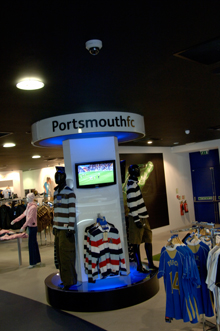 The Panasonic controller's functionality allowed operators to monitor a number of individuals at a touch of a button
Multiple applications
When inside the ground, the system's role is primarily that of crowd monitoring, being deployed for both security and safety applications, Jason continues: "We constantly monitor the crowd and inform stewards of any potentially problematic incidents, allowing them to deal with situations before they can escalate into a bigger problem." Using programmable camera 'preset' and 'home' positions, programmed via the Panasonic controller, Jason's team can focus cameras on specific fans' seats, in particular, those known to be potentially 'problematic' season ticket holders. "This allows an instant check to be made on a number of specific individuals at the touch of a button," adds Jason.
Utilising a Panasonic WJ-HD316A digital recorder and associated WJ-HDE300 external hard drive extension unit, during match events, to ensure maximum clarity and detail all camera images are recorded in maximum resolution. This advanced facility also allows fast download of selected video footage to third party media should an incident need to be investigated off site, or for prosecution purposes. Using this set-up, Jason also has the ability to archive all footage from a season's home matches, by transferring the data to portable drives, building an archive of the year's matches that can be referred to at any time.
In addition to the Panasonic system's use on match days, its intuitive specification by the Acctive team combined with technical flexibility allows Portsmouth FC to benefit from the system's powerful surveillance capabilities throughout the rest of the week. Here, it addresses a variety of different issues, with the system providing constant security for the ground, the club's administration and retail facilities, purpose built office facilities, and the adjacent Pompey Megastore. A two-minute walk from the ground, the Megastore is a busy retail outlet, where fans are drawn throughout the week to purchase the football club's latest gear.
Comprehensive video surveillance
Employing Panasonic Super Dynamic III WV-CP484 static color/mono cameras (along with infra-red lig hting) on the exterior of the building, backed by 22x zoom Panasonic WV-CZ352 static cameras, and a Super Dynamic fully functional WV-CW964 dome camera, the interior and retail floor is monitored via WV-CF284 static mini domes. This means that on a daily basis, full-time security staff enjoy comprehensive surveillance monitoring, accessed via the multiple Panasonic Management PC software equipped work stations, linked via Portsmouth FC's own network. Jason explains: "Our exterior cameras are each linked to Redwall perimeter detectors, which if tripped during the hours of darkness, trigger preset camera positioning, to provide an instant alarm and visual verification of any unauthorized on-site activity."
Recording at a reduced frame rate on non-match days, to maximize recording capacity, all footage is archived via a 16-channel Panasonic WJ-HD316A digital recorder, located in the administration building's first floor server room. This allows Jason to access not only live camera footage via his office PC but also recorded footage for quick retrospective investigation of any incident.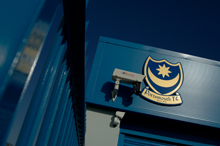 Panasonic flexible surveillance solution successfully addresses customer's needs
As well as surveillance of the retail and office buildings, Jason also has extensive surveillance access to the Sports Bar and corporate hospitality facilities. "These areas are used on match days for corporate guests on pre-paid hospitality packages," explains Jason; "And throughout the week for conferences and functions. We also use the networked CCTV system to cover our two town center based shops, one in Portsmouth's Cascades shopping area and the other in the nearby town of Fareham, and this, along with a large warehouse used to store our shop and internet shopping stock. Here, the system is protecting valuable goods around the clock."
By effectively auditing their customers needs, and addressing them with the use of flexible Panasonic technology, Acctive Systems have supplied Jason and his team at Portsmouth FC with a comprehensive surveillance solution that not only protects fans on busy match days, but that also assists in the smooth running of the club's day-to-day business activities.
Download PDF version
Download PDF version