Trevor Ball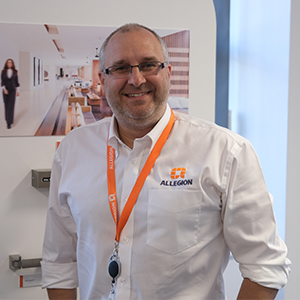 Trevor Ball
Electronics Sales Leader - UK & Ireland,
Allegion (UK) Ltd
Trevor Ball is currently working in the capacity of Electronics Sales Leader - UK & Ireland at Allegion UK Ltd. He has previously held the coveted profiles of Business Development Manager and Area Sales Manager at the firm. Trevor has also worked as Business Development Manager at ESP Leisure Ltd and IT Manager at Cloud Nine. He is an almunus of the prestigious Lord Wandsworth College.
News mentions
When a fire or other emergency occurs in a building or facility, first responders depend on every available resource to ensure a safe and orderly evacuation and response. One element in any response plan is the facility's physical security systems, including access control, video surveillance and intrusion detection. How can these systems contribute to an orderly response to a chaotic situation? We asked this week's Expert Panel Roundtable: What is the role of security systems in the event of a fire or other emergency evacuation?
Cloud applications are an everyday facet of business these days, exemplified by systems such as Office 365, Salesforce.com and Dropbox. The physical security market is also embracing the cloud after overcoming some initial concerns and thanks to improvements in cloud offerings. We asked this week's Expert Panel Roundtable: Which security markets are likely to embrace the cloud?
Allegion UK, global specialist in fire safety and security products, has launched the ISONAS Pure IP family of access control solutions in the UK. ISONAS believes access control belongs on the network and should have the ability to be managed from anywhere across an unlimited number of facilities, that is why ISONAS created Pure IP Access Control Hardware. Access control hardware Patented reader controllers eliminate the need for cumbersome control panels at every door, removing complex wiring and power supplies – meaning it is simple to install. By utilizing standard category cabling installation time is significantly reduced making it the ideal choice for integrators. Commenting on the launch, Trevor Ball, business development manager at Allegion UK and Ireland said, ''Since Allegion's acquisition of ISONAS in 2018, ISONAS is generating a huge amount of interest in the UK market. Perhaps one of the greatest benefits of ISONAS is the ability to manage and administer devices across the globe." ISONAS Pure IP access control Built-in Bluetooth Low Energy enables the door to be configured directly from smartphones and tablets He adds, "The ability to program the system centrally and manage many different remote sites is an intrinsic benefit. This singular advantage is one of the reasons why many customers are choosing to invest in ISONAS Pure IP access control. With the flexibility, scalability and accessibility of ISONAS, I'm certain that this is the future of access control." Built-in Bluetooth Low Energy enables the door to be configured directly from smartphones and tablets. This permits them to be installed, managed and monitored remotely from one single device. Pure IP hardware also eliminates the need for a physical card, allowing organizations to efficiently manage an unlimited number of credentials and manage access control in real-time. Intelligent access control system ISONAS's innovative access control solutions allow businesses to use their existing security network to bring intelligent decision-making to the forefront and to embrace an open platform with both an API for 3rd party software integrations and an SDK for integration of Allegion's patented Pure IP hardware. ISONAS Pure IP access control is not technology of the future. It is a technology of today and here to stay, making it a logical choice for businesses that want full control over their security and a proven IP solution at their door.
Experts sections