Ten Wu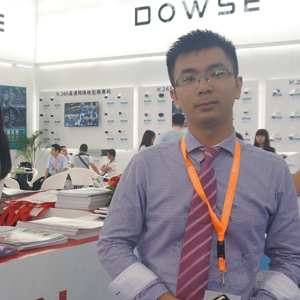 Ten Wu
CIS and European Regional Manager,
Qihan Technology Co.Ltd
Ten Wu is the CIS and European Regional Manager at Qihan. Prior to this, he served as International Sales Manager at Qihan.
News mentions
Starlight camera technology is redefining low-light surveillance to new levels Starlight cameras are the latest products security companies are adding to their product line-ups, each camera boasting the most comprehensive ability to make darkness visible. While low-light surveillance capabilities have been around on the market for some time, starlight camera technology is redefining low-light surveillance to new levels. Sourcesecurity.com spoke to manufacturers to discuss this technology and its applications in the security industry. Stronger Sensors, Higher Image Quality In the second half of last year, Sony unveiled its Starvis sensor technology designed for industrial applications, including security surveillance. The sensors make high-quality images possible in very challenging light conditions by increasing light sensitivity up to 2000 mV or more per 1 µm2. Many security companies have wasted no time incorporating this technology into their starlight range. China-based security camera manufacturer Qihan is one such company. According to Ten Wu, CIS and European Regional Manager at Qihan, the company has worked closely with Sony, in addition to investing in research toward the development of its starlight range. Qihan is by no means the only Asian manufacturer with a starlight range. Tiandy and Korea-based CNB Technology also carry a comprehensive range of starlight cameras for customers to select from, while Nextchip has plans to incorporate starlight technology into its WDR range. During challenging lightingconditions, Starlight cameras areequipped with the technology toslow down the cameras' electronicshutter to capture more light Core to starlight camera technology is excellent light sensitivity, resulting in the ability to capture quality images under conditions with very little available light. Bosch's starlight range, for example, includes a camera that promises to capture highly detailed 1080p monochrome images in low light levels of 0.000275 lux, and the ability to capture moving objects in high resolution with its high frame rate of 30 frames per second. Starlight cameras are equipped with the technology to slow down the cameras' electronic shutter, when lighting conditions become challenging, to capture more light in order for the cameras to continue recording in color. Hardware And Software Enhance Camera Performance According to Niko Xie, Overseas Sales Director at Tiandy, performance is based on both hardware and software, requiring "special sensor and special algorithms" to capture images in challenging light conditions. A qualified starlight camera should be able to provide clearer image with more color detail than normal cameras. Cameras are capable of maintaining color images for longer and provide better night vision when settings are switched to black and white. "Our starlight products not only use starlight sensors, but also our algorithm to enhance image quality," said Xie on Tiandy's starlight range. As security companies raise the bar on security camera performance, they did not forget to apply the latest technology to their starlight range. Hence, starlight cameras from most manufacturers promise simple installation procedures and are further equipped with video analytics to enhance performance and data management, such as noise reduction, intelligent video analysis and remote access. Bosch's starlight range, for example, provides high definition color images in the dark through the combination of starlight technology and intelligent auto exposure, which enables the camera to automatically adapt to changing light conditions. Starlight cameras' clearer images and color detail make them ideal for low-lightenvironments such as bars and clubs Starlight Camera Applications For Low Light And No Light Environments Starlight cameras can be applied in a wide range of situations and environments. Several environments stand to benefit from the increased security starlight cameras could achieve. Places with low light or no light, for example, in a bar or club can benefit from starlight technology. The illumination is weak and under such conditions, normal cameras would have already switched to black-and-white image capturing, but starlight cameras would continue to capture clear color images, explains Xie. In addition, Wu adds that current surveillance systems could also be updated with starlight cameras to tremendously improve image quality at a similar cost compared to conventional cameras. The security industry can definitely expect more to come on starlight cameras and their associated technology.
Experts sections