Skip Sampson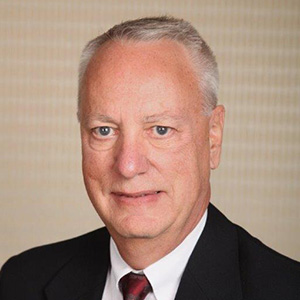 Skip Sampson
President Board of Directors,
Security-Net, Inc.
Sampson is also the President of KST KST Security in Indianapolis, Ind.
News mentions
PSA, the world's largest electronic security cooperative, announced changes to its Board of Directors. The following PSA owners were elected to positions on the Board: Carey Boethel, President and CEO, Securadyne Systems Central Regional Director Skip Sampson, President, KST Security Midwest Regional Director Terry Rivet, President and CEO, Securitronics Northeast Regional Director Incumbents remaining on the Board are: Paul Thomas, President and COO, Northland Controls Chairman Dan Budinoff, President and CEO, Security Specialists Vice Chairman Christine Lanning, President, Integrated Security Technologies Western Regional Director Darryl Keeler, CEO, Tech Systems, Inc. Southern Regional Director Bill Bozeman, CPP, President and CEO, PSA Named Director as President and CEO of PSA "The deep industry knowledge and business acumen of the PSA Board of Directors is something we all hold in high esteem," said Bill Bozeman, CPP, president and CEO of PSA. "We are pleased to announce the incoming directors who will help guide the future of PSA and continue to solidify PSA's position in the industry." Tom Hagen, chairman of the board for Pro-Tec Design, reached his term limit serving as the director for the Midwest region for the last six years. Boethel, Sampson, and Rivet were all elected to two-year terms in their respective positions. Lanning and Keeler have one year remaining in their current terms but are eligible for re-election next year.
The program is designed to promote best practices & business development opportunities Security-Net, a global provider of security system services to customers both locally and nationally, has announced a strategic partnership with Vector Firm to develop an enhanced sales training program for its team. Founded by Chris Peterson, Vector Firm is a consulting company that has specialized in developing training programs for more than 70 companies within the security industry. The program is designed for Sales-Net members, a committee comprised of representatives from each of Security-Net's 21 North American member companies, as well as each member company's individual sales team to promote best practices and business development opportunities amongst Security-Net members. The program consists of monthly sales leadership meetings and a monthly sales webinar, with as many as 130 people participating in the learning program. Providing Greater Value To Members "By engaging in professional sales training across our membership, Security-Net is able to provide additional tools that we expect to see implemented consistently across our organisation," said Skip Sampson, President of the Board of Directors of Security-Net. "This is a great example of how we are able to provide greater value for our member companies." "The sales training engagement with Security-Net has been successful because of the sales leadership's buy-in and commitment to the programme" "The sales training engagement with Security-Net has been successful because of the sales leadership's buy-in and commitment to the program. They've taken the baton from me every month and implemented the tools. Because of their efforts, our strategies and ideas are being implemented in the field within days of our sessions," said Peterson. Business Development Committees Over the past several years, Security-Net has focused on creating committees to foster sharing of best practices and business development opportunities in specific areas. Sales-Net members collaborate on national accounts strategy, project management and lead generation. OPS-Net was created to enhance communication between project managers and installation teams, while Tech-Net brings together the top technical experts from each company to share information about the latest security products and to troubleshoot any technological problems or issues with implementation.
Security-Net members appointed Skip Samson to the position of President of Board of Directors Security-Net, a global provider of security integration services, elected its new Board of Directors at its Annual Shareholders Meeting in late January at the Alsol Tiara Cap Cana Resort in Cap Cana, Dominican Republic. New President Appointed The two-day annual meeting brought together members from North America and International members to review general business of the organization, how to continue to build its National Accounts program, discuss continuing education programmes for employees, and to review expanding its partnership program with manufacturers. The annual meeting took place January 28-29. As part of its meeting, Security-Net members appointed Skip Sampson to the position of President of the Board of Directors. Sampson, who is President of KST Security in Indianapolis, Ind., replaces Jim Coleman, from Atlanta-based Operational Security Systems, who served as President for the past two years. Security-Net holds its election of officers once every two years, with a representative from each member company casting a vote during the election process. Goals For The Future "Security-Net executed well over $15 million in shared business within its 21 North American members network in 2015," said Sampson, newly-elected President of the Board of Directors of Security-Net. "My goals are to strengthen what has made Security-Net the most skilled and experienced group of independent security integrators for over 25 years." Sampson plans to continue to support Security-Net's ability to offer clients the service and relationship of a local, independent systems integrator with the ability to reach across North America and internationally. He noted its members are capable of handling the most complex and challenging of security products. The new Vice President of Security-Net is Eric Schaeffer, from Advantech Security in Dover, Del. The appointment marks Schaeffer's first board position since he joined Security-Net in 2013. He replaces Sampson in this position. New Members Paul Janik, President of Midco in Burr Ridge, Ill., has been elected to the treasurer position, while Bill Hogan, President of D/A Central in Oak Park, Mich., has been named secretary. Each Security-Net Board of Director serves a two-year term. Security-Net is currently comprised of 21 independent systems integrators located throughout North America, plus 4 systems integrators internationally. Over the years the group has formed several working committees, including one called Tech-Net that regularly reviews the latest technologies in the market and shares the best methods to address technology issues. Another committee, called Sales-Net, serves as a sales resource for project lead generation and strategies about how to build relationships with the customer. Security-Net focuses on the integration of end-to-end security solutions including technologies such as access control, video surveillance, emergency mass notification and perimeter detection systems in aerospace, commercial offices, university campuses, airports, government, utilities, hospitals and pharmaceutical manufacturing facilities. Individual member companies, which make up the company's regional locations, regularly share design solutions, troubleshooting tips, technology updates and marketing ideas to provide the most effective, up to date security management system for customers.
Experts sections