Rishi Lodhia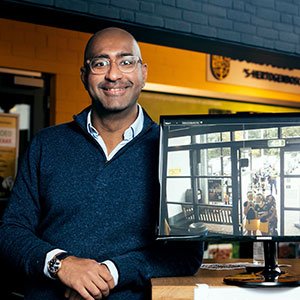 Rishi Lodhia
Managing Director, EMEA,
Eagle Eye Networks, Inc.
Rishi Lodhia is the Managing Director at Eagle Eye Networks for EMEA region. He shares his expertise in cloud-based video surveillance. In his previous role as CEO and Co-Founder of Cameramanager, Rishi launched one of the world's first cloud-based video surveillance platforms. As CEO of Panasonic Cloud Management Service Europe, he launched NuboCam, world's first 4G/LTE video surveillance camera.
Articles by Rishi Lodhia
As technology develops at an ever-faster rate, the possibilities for where and how new innovations can be used are endless. The property sector is one such area where new technology, such as smarter video surveillance, is being used to improve the quality of life for families and communities by increasing security as well as implementing changes based on new insights. Specifically for the coliving movement, cloud-based video surveillance is helping operators to improve the communal spaces for their tenants in ways that on-premises surveillance never could. From tighter security measures to better social spaces, here's how coliving is benefitting from the PropTech (property technology) boom. What is coliving? The coliving movement is the latest iteration of a recurring human trend. The act of communally sharing space and resources while benefiting from a supportive community is something we've seen time and again throughout history. A place that everyone can call home addresses multiple needs. With the concept of shared spaces, and the possibility to work and socialize together, it's no longer simply a trend. Specifically for the coliving movement, cloud-based video surveillance is helping operators to improve the communal spaces for their tenants in ways that on-premises surveillance never could. As living expenses become ever higher, for many – particularly younger – people getting on the property ladder is difficult, and renting an apartment alone can feel isolating. Coliving spaces offer a ready-built community, and many responsibilities – like maintenance, for example – lie with the building owners, and the cost is included. Where does PropTech come in? PropTech is dramatically changing the way people research, rent, buy, sell and manage property. The combination of the internet, huge compute power, cloud platforms and artificial intelligence (AI) have all combined to create technologies that are transforming the way the entire property sector works. Whether that's helping buildings to operate more efficiently or even become more sustainable, PropTech is a sector that's on the rise. When it comes to coliving, PropTech is helping to make these environments safer and smarter for the people who live there. One of the fundamental areas of building design is people's safety. Following the past year where health has been at the forefront of everyone's minds, PropTech is enabling entrance systems with touchless doorways and innovative ventilation systems, for example. And even without taking the pandemic into consideration, people living in shared spaces need to be confident that the security is well-managed, and the management wants to ensure that only tenants and their guests can enter the premises. How cloud video surveillance drives better coliving Once seen as an 'add-on' to building design, video surveillance and access control are now becoming increasingly important elements of the PropTech movement, and they are equally as desirable for coliving too. Surveillance cameras are essentially sensors that can monitor activity, patterns, and any other changes in a given environment. Analysis of video data can occur in real-time to effect changes immediately, or video can be stored and evaluated at a later date. In a co-living environment, a cloud-based video surveillance system can help operators to understand how tenants use their space, and implement changes to benefit them. Traditionally, video surveillance data stored on-premises had limited uses, as it was often only accessed after a security incident, such as a break-in. The video therefore wouldn't be used frequently and the camera and storage system would just be another cost not yielding any ROI. Cloud technology has had a dramatic impact on video surveillance. Remote management delivers the ability to modify, adjust and perfect the system without needing to be present at the site, while remote monitoring alerts operators to any unusual incidents such as an equipment malfunction or breakage. In a co-living environment, a cloud-based video surveillance system can help operators to understand how tenants use their space, and implement changes to benefit them. For example, surveillance can show operators which areas in the communal spaces are frequented the most and at what times, including areas such as the laundry room or gym where space might be limited. By using AI to analyze the video, operators can use insights from it to improve the existing set up wherever possible, and also learn lessons about how to better design future coliving spaces. In today's world, this technology can also help to keep everyone safe and healthy. Cameras can identify if someone is wearing a face mask as they go to enter a building and deny entry until they put one on. Thermal cameras are another easy tool to screen people for an elevated temperature before they even enter a communal space. Though a raised temperature does not mean you have COVID-19, the technology can provide an initial screening, so that individuals with elevated temperature readings can be checked manually for other symptoms or possibly be recommended for a test. The future of smart living Coliving is not a new phenomenon – humans have been living in communal places for many years, working and socializing together for the benefit of everyone. What makes today's coliving movement unique is the range of rapidly developing technology that is being implemented to improve the environments for tenants. As an arguably lower cost and higher quality way of life, coliving spaces are certainly here to stay, and so the PropTech surge is no doubt going to grow with it.
The global pandemic has triggered considerable innovation and change in the video surveillance sector. Last year, organizations around the globe embraced video surveillance technologies to manage social distancing, monitor occupancy levels in internal and external settings, and enhance their return-to-work processes. Forced to reimagine nearly every facet of their operations for a new post-COVID reality, companies were quick to seize on the possibilities offered by today's next-generation video surveillance systems. Whether that was utilizing motion sensing technologies to automatically close doors or switch on lighting in near-deserted office facilities. Or checking if people were wearing masks and adhering to distancing rules. Or keeping a watchful eye on streets and public spaces during mandated curfew hours. Beyond surveillance and monitoring use cases, organizations also took advantage of a raft of new Artificial Intelligence (AI) applications to undertake a range of tasks. Everything from automating their building management and optimizing warehouse operations, to increasing manufacturing output and undertaking predictive maintenance. Behind the scenes, three key trends all contributed to the growing ubiquity of video surveillance observed in a variety of government, healthcare, corporate, retail, and industry settings. Video surveillance takes to the Cloud Last year the shift to digital working led organizations to rapidly embrace cloud-enabled services, including cloud-hosted Video Surveillance As A Service (VSaaS) solutions that provide tremendous economies of scale and flexibility. Alongside significant cost savings, these solutions make it easier for organizations to enhance their disaster recovery and manage their video surveillance estate in new and highly effective ways. Surveillance cameras with audio recording were used more than 200% by customers between 2016 and 2020 For example, in addition to enabling remote access and maintenance, today's cloud-powered systems eliminate any need to invest in local storage technologies that all too often fail to keep pace with an organization's growing data storage requirements. Indeed, data from our worldwide customer base survey reveals how in 2020 an impressive 63% of organizations had abandoned using any on-premises storage option and were instead only storing all their video surveillance recordings and data in the Cloud. A deeper review of the global stats shows that the average cloud recording retention period for this stored data was 28.2 days, with organizations in Asia topping the global average at 38 days – 33% higher than was observed in any other region. Improvements in bandwidth and scalability engendered by the Cloud have also helped boost the growing utilization of audio recordings in addition to visual image capture. Indeed, our research found the number of surveillance cameras with an audio recording facility used by customers jumped more than 200% between 2016 and 2020. Making sense of Big Data The enhanced ease of connectivity and scalable bandwidth made possible by the Cloud is stimulating more companies to connect a lot more video surveillance cameras to their networks. The top motivation for doing so is to generate live metrics and data that can be utilized to deliver enhanced business insights and operational intelligence. In recent years, a rich choice of video analytics solutions have been developed for a variety of industry verticals. The range of functionalities on offer is impressive and covers a variety of applications. Everything from making it easy to classify and track objects and behavior patterns in real-time, to undertaking anomaly detection, or generating predictions based on past and present events/activities. Data collected via today's cloud connected cameras can now also be used to feed deep learning training and AI analytics, utilizing the unparalleled virtualized processing capacity of the Cloud to convert Big Data into usable information quickly. By integrating this information with data from other enterprise data capture systems, organizations are now able to gain a 360-degree view of their operations – in almost real-time. IT is now in the driving seat No longer the sole preserve of on-site security staff, the wider application and business use of video surveillance means that IT is increasingly taking the lead role where the management and control of these systems are concerned. IT is asked to integrate video surveillance into key enterprise platforms to generate the data that business leaders need Aside from the fact that IT has a vested interest in addressing the cybersecurity implications that come with attaching a growing range of IoT devices to the enterprise network, they're also increasingly being asked to integrate video surveillance into key enterprise platforms to generate the data that business leaders need. As organizations expand their integration of video with other business applications, such as point of sale, access control, process control, and manufacturing systems, this trend is only set to accelerate. Looking to the future Right now, the video surveillance industry is at a key tipping point, as video systems become increasingly strategic for enabling the enterprise to boost productivity, stay compliant, and fulfill its obligations to protect employees and customers. As the technology's contribution to enhanced data-driven decision-making and problem solving continues to increase, expect the adoption of IP connected video cameras to burgeon as organizations look to capture more data from their day-to-day business operations.
Urban populations are expanding rapidly around the globe, with an expected growth of 1.56 billion by 2040. As the number of people living and working in cities continues to grow, the ability to keep everyone safe is an increasing challenge. However, technology companies are developing products and solutions with these futuristic cities in mind, as the reality is closer than you may think. Solutions that can help to watch over public places and share data insights with city workers and officials are increasingly enabling smart cities to improve the experience and safety of the people who reside there. Rising scope of 5G, AI, IoT and the Cloud The main foundations that underpin smart cities are 5G, Artificial Intelligence (AI), and the Internet of Things (IoT) and the Cloud. Each is equally important, and together, these technologies enable city officials to gather and analyze more detailed insights than ever before. For public safety in particular, having IoT and cloud systems in place will be one of the biggest factors to improving the quality of life for citizens. Smart cities have come a long way in the last few decades, but to truly make a smart city safe, real-time situational awareness and cross-agency collaboration are key areas which must be developed as a priority. Innovative surveillance cameras with integrated IoT Public places need to be safe, whether that is an open park, shopping center, or the main roads through towns Public places need to be safe, whether that is an open park, shopping center, or the main roads through towns. From dangerous drivers to terrorist attacks, petty crime on the streets to high profile bank robberies, innovative surveillance cameras with integrated IoT and cloud technologies can go some way to helping respond quickly to, and in some cases even prevent, the most serious incidents. Many existing safety systems in cities rely on aging and in some places legacy technology, such as video surveillance cameras. Many of these also use on-premises systems rather than utilising the benefits of the cloud. Smart programming to deliver greater insights These issues, though not creating a major problem today, do make it more challenging for governments and councils to update their security. Changing every camera in a city is a huge undertaking, but in turn, doing so would enable all cameras to be connected to the cloud, and provide more detailed information which can be analyzed by smart programming to deliver greater insights. The physical technologies that are currently present in most urban areas lack the intelligent connectivity, interoperability and integration interfaces that smart cities need. Adopting digital technologies isn't a luxury, but a necessity. Smart surveillance systems It enables teams to gather data from multiple sources throughout the city in real-time, and be alerted to incidents as soon as they occur. Increased connectivity and collaboration ensures that all teams that need to be aware of a situation are informed instantly. For example, a smart surveillance system can identify when a road accident has occurred. It can not only alert the nearest ambulance to attend the scene, but also the local police force to dispatch officers. An advanced system that can implement road diversions could also close roads around the incident immediately and divert traffic to other routes, keeping everyone moving and avoiding a build-up of vehicles. This is just one example: without digital systems, analyzing patterns of vehicle movements to address congestion issues could be compromised, as would the ability to build real-time crime maps and deploy data analytics which make predictive policing and more effective crowd management possible. Cloud-based technologies Cloud-based technologies provide the interoperability, scalability and automation Cloud-based technologies provide the interoperability, scalability and automation that is needed to overcome the limitations of traditional security systems. Using these, smart cities can develop a fully open systems architecture that delivers interoperation with both local and other remote open systems. The intelligence of cloud systems can not only continue to allow for greater insights as technology develops over time, but it can do so with minimal additional infrastructure investment. Smart surveillance in the real world Mexico City has a population of almost 9 million people, but if you include the whole metropolitan area, this number rises sharply to over 21 million in total, making it one of the largest cities on the planet. Seven years ago, the city first introduced its Safe City initiative, and ever since has been developing newer and smarter ways to keep its citizens safe. In particular, its cloud-based security initiative is making a huge impact. Over the past three years, Mexico City has installed 58,000 new video surveillance cameras throughout the city, in public spaces and on transport, all of which are connected to the City's C5 (Command, Control, Computers, Communications and Citizen Contact) facility. Smart Cities operations The solution enables officers as well as the general public to upload videos via a mobile app to share information quickly, fixed, body-worn and vehicle cameras can also be integrated to provide exceptional insight into the city's operations. The cloud-based platform can easily be upgraded to include the latest technology innovations such as license plate reading, behavioral analysis software, video analytics and facial recognition software, which will all continue to bring down crime rates and boost response times to incidents. The right cloud approach Making the shift to cloud-based systems enables smart cities to eliminate dependence on fiber-optic connectivity and take advantage of a variety of Internet and wireless connectivity options that can significantly reduce application and communication infrastructure costs. Smart cities need to be effective in years to come, not just in the present day, or else officials have missed one of the key aspects of a truly smart city. System designers must build technology foundations now that can be easily adapted in the future to support new infrastructure as it becomes available. Open system architecture An open system architecture will also be vital for smart cities to enhance their operations For example, this could include opting for a true cloud application that can support cloud-managed local devices and automate their management. An open system architecture will also be vital for smart cities to enhance their operations and deliver additional value-add services to citizens as greater capabilities become possible in the years to come. The advances today in cloud and IoT technologies are rapid, and city officials and authorities have more options now to develop their smart cities than ever before and crucially, to use these innovations to improve public safety. New safety features Though implementing these cloud-based systems now requires investment, as new safety features are designed, there will be lower costs and challenges associated with introducing these because the basic infrastructure will already exist. Whether that's gunshot detection or enabling the sharing of video infrastructure and data across multiple agencies in real time, smart video surveillance on cloud-based systems can bring a wealth of the new opportunities.
Experts sections