Michael Seiter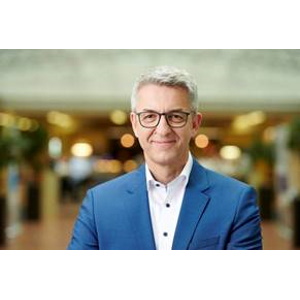 Michael Seiter
Senior Vice President,
Bosch Security Systems GmbH
Michael Seiter occupies the position of the current Senior Vice President of Engineering at Bosch Security Systems. He has been a part of the company since June 2012.
News mentions
Bosch announces the launch of INTEOX, a new camera platform designed to modernize the security and safety industry. The first-fully open platform of its kind, INTEOX gives users, system integrators, and application developers' unlimited freedom for innovation and customization. As the world becomes increasingly connected, the Internet of Things (IoT) presents new opportunities for individuals and businesses. However, to take full advantage of the opportunities that the IoT brings, the safety and security industry must embrace change. Bosch is demonstrating the vast potential of the IoT with INTEOX. Developing unlimited software apps The INTEOX open camera platform combines built-in Intelligent Video Analytics from Bosch with superb performance, a commonly used open OS, and the ability to add software apps securely. The new powerful platform supports the latest technologies, such as neural network based analytics, the next step in machine learning and Artificial Intelligence. INTEOX enables app developers and integration partners to take advantage of its built-in intelligence and capabilities to easily develop unlimited software apps based on a common language. At the same time, system integrators can customize their security solutions to meet specific and changing customer requirements by adding apps and deploying them into INTEOX cameras. Intelligent video analytics Bosch supports the platform with the highest levels of data security and privacy protection" "As sophisticated sensors with Intelligent Video Analytics built-in as standard, INTEOX cameras can provide valuable data that can be analyzed and used in a wide variety of new and beneficial ways, many of which the industry can only imagine. Bosch supports the platform with the highest levels of data security and privacy protection, and the quality and simplicity that comes with working with Bosch", says Michael Seiter, Senior Vice President, responsible for the Bosch Video Systems & Solutions business. An open platform approach has already proven successful in the computer and mobile phone market, where software and apps have become an integral part of daily life. For example, apps provide immediate information, instant communication and connection, improved work productivity, and simplified daily tasks. These benefits extend to security cameras. By having an open platform, developers can work with integrators to address their customer's business challenges. Device management portal The INTEOX camera platform will power an entirely new line of MIC, AUTODOME, FLEXIDOME, and DINION fixed and moving cameras supported by an open IoT infrastructure. Developed by Security and Safety Things GmbH, a Bosch start-up company, this IoT infrastructure is based on four pillars: An open OS based on Android Open Source Project and strengthened for increased security An application store to access relevant app information, browse the public store and purchase ready-to-use apps for all INTEOX cameras A web portal for app developers and designers that offers information and tools to develop and test apps A device management portal that shows app and device health statistics and enables easy management of apps The INTEOX cameras, together with the IoT infrastructure, enable app developers, system integrators, integration partners, and other market players to create customer-specific apps and insert them easily into INTEOX cameras. "INTEOX will fuel innovation that is beyond the scope of any single company today. The introduction of this open camera platform will accelerate the future growth of the entire security and safety industry," Seiter says.
Effective March 1, 2020, Michael Seiter (48) and Magnus Ekerot (51) have taken over newly established roles within Bosch Building Technologies. Michael Seiter has assumed the role of Senior Vice President, responsible for the Video Systems & Solutions business. Magnus Ekerot has joined Bosch as Senior Vice President, responsible for the global marketing of the company's comprehensive Security offering as well as for sales coordination and product management of the Video Systems & Solutions business. "With Michael Seiter and Magnus Ekerot, Bosch Building Technologies has gained two highly experienced managers. We are very happy to have them on board." Footprint in the global video market They will both play very important roles in advancing and further strengthening our footprint in the global video market. This includes the further expansion of our portfolio as well as putting an even stronger focus on software. Simultaneously, we want to keep and enhance the offering of comprehensive security solutions to our customers, including video systems, intrusion detection, access control and management software," says Tanja Rückert, the President of Bosch Building Technologies. Ekerot has a strong background within and profound knowledge of the video security market Seiter has extensive experience within the areas of sensor, software and data based innovations, previously holding the position of Senior Vice President with responsibility for engineering at the Bosch division Car Multimedia. "In light of rapid developments in areas like IoT and AI, the video security business provides great opportunities and potential. Coming from the automotive sector within Bosch, I am also looking forward to further exploring and leveraging existing and future technology synergies between the businesses," says Seiter. Voice evacuation systems "In times of transformation and digitisation, it is great to join a company with such a strong focus on innovation and future-proof development. I am excited to be a part of this journey and to support in shaping the future of the industry with the whole team," complements Ekerot. Having previously worked in different senior management roles at major industry players, he has a strong background within and profound knowledge of the video security market. The Bosch division Building Technologies is a globally established supplier of security, safety, and communications products and systems. The product portfolio includes video security, intrusion detection, fire detection and voice evacuation systems as well as access control and management systems. Professional audio and conference systems for communication of voice, sound and music complete the range. In 2019, about 9,000 associates generated sales of roughly 2.0 billion euros.
Experts sections