Kevin Hickey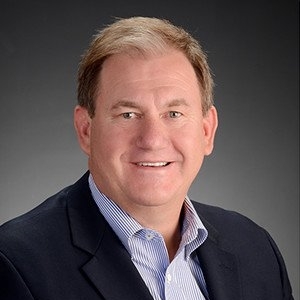 Kevin Hickey
President and CEO,
BeyondTrust
Kevin Hickey, as the President and CEO of BeyondTrust, is responsible for watching over the company's day-to-day operations. Kevin joined BeyondTrust upon the acquisition of eEye Digital Security, where he served as the CEO and Chairman. He has extensive experience in software operations, strategy, capital fundraising, and mergers and acquisitions. An alumnus of Niagra University, Kevin started his IT career at IBM, where he played key marketing and business management roles.
News mentions
Omada A/S, a global pioneer of Identity Governance and Administration ("IGA") software and cloud delivered IGA services, announced the appointment of Michael Garrett as CEO. IGA services improve compliance and IT security, manage secure access across all corporate systems, ensure employee access is compliant with access policies and help to automate IT processes for better efficiency. Michael joins Omada with extensive software and services experience and was most recently CEO at Workshare, a UK-based provider of secure enterprise file sharing and collaboration applications. Prior to this he spent 15 years at Hewlett Packard where he led the Global Software Services Division. Michael will bring deep global software experience to the existing leadership team enabling the acceleration of Omada's growth. Michael takes over as CEO from founder Morten Boel Sigurdsson, who is taking on a new role as President of the rapidly expanding North American region where his knowledge and experience will be vital. Significant growth and investment plan IGA is one of the fastest evolving requirements of digital transformation, compliance and IT security" The appointment forms part of a significant growth and investment plan following the acquisition of Omada by two leading private equity firms, CVC Capital Partners and GRO Capital. Michael's appointment is the latest of a number of key leadership and Board changes over the last year, including; adding industry leading technology executives, Kevin Hickey (President & CEO of Prevalent and previously President & CEO of Beyond Trust) and Franck Cohen (previously President SAP Digital Core & Industry Solutions and previously President SAP EMEA) as Non-Executive Board Directors and Jim Ousley (Senior Operating Partner at CVC Growth Partners, previously CEO at Savvis, and several other global technology companies) as Chairman of the Board, as well as new leaders in the Services and US Sales teams (Lars Bell and Jim Voloumanos). Identity and access governance Jim Ousley, Chairman, says: "We are excited to have Michael join the leadership team at Omada. His extensive and proven industry expertise in leading global software and services organizations will be a great addition to the company, coupled with the other on-going positive enhancements we are making as we embark on our next stage of global growth." IGA leadership position was named as Leader in 2019 Gartner Magic Quadrant for Identity Governance and Administration "I am very pleased to join Omada at this pivotal time in the company's history", said Michael Garrett. "IGA is one of the fastest evolving requirements of digital transformation, compliance and IT security. Organizations across the globe are currently in a transition to the next generation of identity and access governance and this is exactly what Omada provides today," Michael continues. "I believe Omada is perfectly positioned with a superior enterprise grade IGA SaaS solution in combination with the unique best practice IGA process framework. Flexible compliance products "This combination differentiates Omada in the market, accelerating adoption and return on investment for its customers. I look forward to working with the broader Omada team to execute on our transformational growth strategy." Morten Boel Sigurdsson adds, "Omada is experiencing strong demand for its software and services offerings driven by increasing market demand for efficient, flexible compliance products and services. Our IGA leadership position was recently highlighted by being named as a Leader in the 2019 Gartner Magic Quadrant for Identity Governance and Administration. I look forward to working with Michael and our team in this exciting new chapter for the company."
BeyondTrust, global cyber security company dedicated to preventing privilege abuse and stopping unauthorized access, announced that it has been named a leader in The Forrester WaveTM: Vulnerability Risk Management, Q1 2018 report. According to the report, "BeyondTrust supports a robust set of features at an incredible price point." Researchers added, "If you're looking for a cost-effective solution for scanning your infrastructure with risk and compliance reporting, this is an excellent choice." Risk Management And Data Analysis The Forrester Wave is an evaluation of vendors in the software, hardware, or services markets, driven by the analysis of data collected from the marketplace. In the 22-criteria evaluation of the 12 most significant vulnerability risk management providers, Forrester analysts researched, analyzed and scored each participant. The report shows how each provider measures up and helps security and risk (S&R) professionals make the right choice. According to the Forrester Wave, all vendors included in the report met the following inclusion criteria: Remediation prioritization based on threat intelligence, substantial enterprise level experience and significant mindshare with Forrester clients. The Forrester Wave evaluation gave BeyondTrust the highest scores possible for the following evaluation criteria: Endpoint agent integration Total cost of ownership Product Roadmap "We believe the results from this report underscore BeyondTrust's strengths of offering tremendous value for the price," said Kevin Hickey, CEO of BeyondTrust. "We believe this report demonstrates third-party recognition for delivering a well-developed, forward looking solution to meet tomorrow's needs."
BeyondTrust, a cyber security company dedicated to preventing privilege misuse and stopping unauthorized access, today announced extremely strong fourth-quarter and 2017 results, with a significant revenue increase, hundreds of new customers, strong profit margins and a growing channel. 2017 highlights include: Over 50% growth in PowerBroker Password Safe, the company's comprehensive password management solution 47% growth in multi-product business, highlighting the breadth and depth of BeyondTrust solutions and indicating strong demand for the PAM platform 64% growth in channel business demonstrating significant momentum Revenue from cross-sell of new products to existing customers grew over 40%, highlighting the value customers receive from BeyondTrust solutions Over 500 new enterprise customers added to the growing family of BeyondTrust customers Double-digit growth in revenue, driven by 100%+ growth in EMEA, demonstrating continued high demand for privilege management solutions. With these results, the company extended its leadership position with a comprehensive privileged access management (PAM) solution. Data Security With Privileged Access In 2017, BeyondTrust helped more than 4,000 customers reduce insider risks and close external security gaps. In addition to adding hundreds of new customers, organizations are leveraging the value of the integrated platform to satisfy maturing privilege requirements, enabling BeyondTrust to expand relationships with existing customers. "With 80% of data breaches the result of the abuse or misuse of privileged credentials on an endpoint, it's important for organizations to have a complete and integrated solution to address these risks," said Kevin Hickey, President and CEO, BeyondTrust. "As a $125M+ global software company, we provide all the necessary privileged access management solutions that security and IT teams demand in the efficiency of a single platform." BeyondInsight-Powered Access Control BeyondTrust customers benefitted from the following significant advancements over the past year: Introduced the newest version of its central console for privileged access management and vulnerability management, BeyondInsight, with a redesigned dashboard and enhanced analytics and reporting to even further simplify the management of privileged accounts. Launched support for the Microsoft Azure cloud platform, providing Azure instances of its leading privileged access management (PAM) and vulnerability management (VM) solutions. In addition, BeyondTrust performs security scans of Azure cloud instances to prevent unwanted intrusions as a result of unpatched or known vulnerabilities. Launched the first privileged access management platform available on Google Cloud providing the most cloud-based deployment options and maximum flexibility for customers. BeyondTrust's Google Cloud instance also supported a Bring Your Own Licensing (BYOL) model. BeyondTrust became the only vendor having a complete PAM platform available on Google Cloud, Amazon Web Services and Microsoft Azure Marketplace. Released a new version of PowerBroker Servers Management Console (PBSMC), a centralized, web-based solution that simplifies the deployment and management of PowerBroker for Unix & Linux, PowerBroker for Sudo and PowerBroker Identity Services. BeyondInsight, Retina, PowerBroker for Windows, PowerBroker Auditing & Security Suite and UVM 50 Appliance all received Common Criteria Certification. The certification awarded across privileged access management and vulnerability management solutions reduces the implementation time and complexity for government agencies and enterprises. Released many more product updates, including PowerBroker Password Safe, PowerBroker for Windows, and Retina. Strategic Security Management Partnerships BeyondTrust extended its partner engagement in 2017: New engagements with top-tier trusted identity and access management (IAM) partners CIS, GoSecure and XMS Solutions enhanced BeyondTrust's reach by offering solutions in the cloud, allowing organizations to leverage the combined expertise of both BeyondTrust and the trusted partner in PAM and IAM deployments. Launched the BeyondTrust University certification program to ensure partners have the consulting resources to deliver implementation services on BeyondTrust products. New MSP partners bring strong global additions leveraging BeyondTrust solutions as a managed service while expanding existing MSP partners. Newly developed consulting and system integrator partner ecosystem driving strong results. Added 14 new delivery partners in 12 countries while also adding 25 new certified implementation engineers, doubling 2016 results. Partnered with Secure Internet Storage Solutions to offer the first privileged access managed security service in Australia. Industry Recognition For Enhanced Integration BeyondTrust is recognized as the privileged access management leader: For the fourth straight year, Gartner included BeyondTrust as a 'Representative Vendor' in the August 2017 Market Guide for Privileged Access Management report. BeyondTrust was named among the leaders in every category of the KuppingerCole 2017 Leadership Compass for Privilege Management report. The company was recognized for its history as a long-standing and stable company, its support for proxy-and host-based privilege management and significantly improved integration across the portfolio. BeyondTrust's PowerBroker solutions were named the Govies Government Security Award Winner by a panel of independent judges from the security industry and editors at Security Today. Winners were selected based on features, innovation, user friendliness, interoperability, quality, design, market opportunity, impact, technical advances and scalability. PowerBroker was named to CRN's Most Innovative Security Products of 2017 list. The award honours vendors drawing the roadmap for the future of IT and providing cutting-edge solutions. BeyondTrust's Joseph Schramm was recognized as a CRN Channel Chief. The list represents top leaders in the IT channel who excel at driving growth and revenue in their organizations through channel partners. BeyondTrust's Natalie Padula was named to its prestigious 2017 Women of the Channel List for her outstanding leadership, vision, and unique role in driving channel growth and innovation.
Experts sections