Friedhelm Steinhilber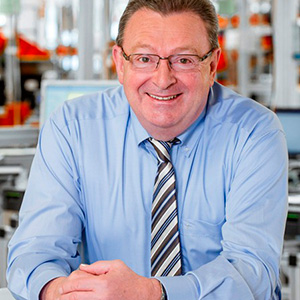 Friedhelm Steinhilber
Chairman Of The Board,
BDT Products
Friedhelm Steinhilber, born on 30 October 1949, finished his studies as industrial clerk in 1968. He was then employed as commercial employee in a local company, the Bechtold KG in Rottweil, Germany. Early on he recognized his preference for technology and product design and joined BDT in 1970. BDT was founded as a distribution company for office equipment in 1967 by his father Helmut Steinhilber. Friedhelm Steinhilber was mainly responsible for the development of the technical area, the international sales structure as well as the expansion of the product portfolio of BDT. In 1979 he become CEO of BDT and developed the company to an international market leader in its two business units, paper handling and storage automation. He is the founder of almost 100 patents and represents the innovative strength and experience of BDT. Furthermore he sits on the advisory boards of a German bank, the Volksbank in Rottweil and a German company, the Grau Data AG. Since October 2013 Friedhelm Steinhilber is the Chairman of the Board at BDT Media Automation GmbH.
News mentions
Phoenix RSM is a professional grade VMS that manages multiple tiers of storage resources SoleraTec LLC, provider of innovative video lifecycle management and storage products, has partnered with BDT Products of Rottweil, Germany, and Newport Beach, CA., to distribute the Phoenix RSM™ video management software. Delivering a unique video management solution –with a focus on moderate to long-term video retention through a multi-tiered storage infrastructure– will provide BDT with a scalable, cost-efficient, video storage software application that seamlessly integrates with the BDT Products hardware family. Integration Of Phoenix VMS BDT Product is the manufacturer and OEM supplier of a complete line of LTO-based storage libraries, disk-based NAS storage devices, as well as servers, which when integrated with the SoleraTec Phoenix RSM software creates a complete end-to-end video management solution with scalable moderate to long-term retention. Phoenix RSM is a professional grade VMS that manages multiple tiers of storage resources. It can capture video on a traditional hard disk drive and then move it to less expensive storage devices such as near-line and offline data tape libraries, or hard disk based removable storage. When integrating multiple storage tiers to expand video retention there are significant cost savings that is in stark contrast to the high price for hard disk only based storage solutions. Not only is near-line/offline storage less expensive, it is more durable and can be kept for decades while retaining video quality. Scalable Video Surveillance Solutions BDT Products will integrate and embed the Phoenix RSM software with various hardware components to deliver scalable affordable video surveillance storage solutions with professional grade VMS capabilities. "Working with the BDT Products team to expand the reach of the SoleraTec brand globally is a significant step for us and we are eager to work with the BDT Products team," stated Mark Armstrong, CEO of SoleraTec. "BDT Products brings an abundance of industry knowledge and personal contacts to the table and we are honored to be working with them." Global video surveillance markets have various retention and privacy regulations that differ from country to country and having a global organization that SoleraTec can partner with is important for local success. BDT's 35-year history in the global data storage market makes them the ideal partner for SoleraTec's video asset management software solutions. "The multi-tiered storage capabilities of SoleraTec's software showcase the advantages of the BDT's well-established and market leading hardware products, which makes them a great partner for us," added Friedhelm Steinhilber, Chairman of BDT.
Experts sections