Ali Mahmoud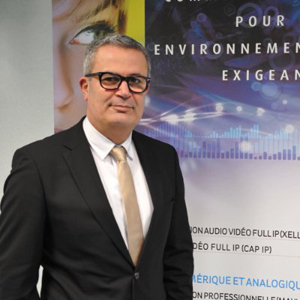 Ali Mahmoud
Operational Director,
Castel
Ali Mahmoud is Operational Director at Castel, provider of IP intercom systems.
News mentions
Founded in 1988 in Franqueville Saint Pierre, close to Rouen, France, SYNCHRONIC develop and produce solutions intended for all types of sites requiring protection of goods and people, such as banks, local authorities and more generally industrial, commercial or administrative sites. The company has 6 agencies to cover the French territory and is present worldwide mainly in French-speaking African and north African countries. SYNCHRONIC employs 60 people and achieved a turnover of 10.50M€ in 2019. "With this acquisition, the group strengthens its tertiary sector, already made up of CASTEL and MWS, and consolidates its position as a provider in access management and security for buildings", confirms Philippe Mallard, Managing Director of the URMET France Group. URMET Connected buildings solution provider A player in the fields of intercom, access control, home automation and, more broadly, connected building, the URMET France Group has experienced steady and uninterrupted growth in turnover. "The strength of the Group is to cover all the segments of the market chain (professional distribution, installers, general distribution…), to be multi-skilled, with an alliance of companies each expert in their fields. Like everyone, we are impacted by the health and economic crisis of COVID-19. However, we believe it is essential to continue our development in order to prepare for tomorrow", continues Philippe Mallard. "The merger with SYNCHRONIC constitutes a great opportunity, their access control solutions, and in particular XSecur' which obtained CSPN certification from ANSSI, will complement those offered by CASTEL", specifies Ali Mahmoud, Operations Manager of CASTEL and head of the group's tertiary division. Company's presence in Europe "This acquisition is also part of the group's innovation strategy. Synergies, particularly in development, will benefit all companies in both tertiary and residential sectors, and will allow us to provide ever more efficient, competitive and innovative solutions in a constantly moving sector", said Pascal Perrin, Operations Manager of URMET France and head of the group's residential division. SYNCHRONIC will also benefit from CASTEL's export presence, particularly in Europe (Belgium, Spain, Italy, Switzerland, subsidiary in the United Kingdom), Russia, Australia, Middle East ..., and more widely of the international influence of the URMET Group. "The integration of SYNCHRONIC within a solid group in constant growth for 20 years and oriented to the international market, allows us to ensure the pursuit of our development. The complementarities between the different companies in the group will also create a new dynamic for our customers and our teams", say Vincent Molina and Nicolas Bignard, co-managing directors of SYNCHRONIC.
Castel intends to create intercoms that fit with all building styles, from modern buildings to historical monuments Specializing in IP access control and professional intercom solutions, Castel has always stressed the importance of developing custom-made products with clear added value by taking technical constraints and the functional requirements of the customer into account. Unique Intercom Design Castel has now gone a step further by creating a range of IP intercoms whose design is entirely customisable: A unique concept in the intercom market share Customized external design, where the only limit is the imagination A range of products that combines Castel's expertise in security and functionality, Optimized prices and product availability made possible by the flexibility of Castel's organization and its close relations with its national suppliers. ARCH-IP range Ali Mahmoud, Castel's Operational Director, said: "With the ARCH-IP range, Castel is providing a solution that matches intercom systems perfectly to your construction or renovation projects. We also aim to meet the expectations of even the most demanding customers seeking to enhance their image through the intercom they choose." Through this new range, Castel intends to create intercoms that fit perfectly with all building styles, from modern buildings to historical monuments, as well as to meet the needs of companies seeking to enhance their image through the design of their building entrance. Intercom systems have become a real focus these days for conveying corporate image.
Experts sections