Scott Salmirs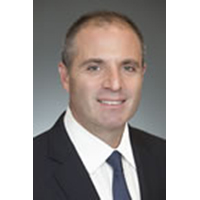 Scott Salmirs
President and Chief Executive Officer,
ABM (Security Systems) Ltd.
Scott Salmirs became an Executive Vice President at ABM Industries in September of 2014. In that role, Mr. Salmirs oversaw the Northeast Region of the company's Onsite division and had global responsibility for ABM's aviation division and all international activities. Prior to that, he was an Executive Vice President of our Onsite services division focused on the Northeast. Mr. Salmirs joined the company in 2003. Prior to joining ABM, Mr. Salmirs held leadership positions at Goldman Sachs, Lehman Brothers, and CBRE. Mr. Salmirs has an MBA in Finance from the State University of New York at Binghamton, and a BS in Business-Economics from the State University of New York College at Oneonta. He is on the Board of the Outreach Project, an organization dedicated to rehabilitating high school age drug users, and is a founding Board Member of Donate Eight, a group focused on increasing the number of organ donors in New York State.
News mentions
The transaction was valued at a pre-tax level of $131 million Universal Protection Service, a division of Universal Services of America and a portfolio company of Warburg Pincus and Partners Group, announced recently that it has acquired the ABM Security Business, a division of ABM. The acquisition further expands the largest and fastest growing American-owned security company. The transaction was valued at a pre-tax level of $131 million. Part of Long-Term Strategic Plan Based in Houston, Texas, ABM Security is one of the top 10 largest security service providers in the U.S., with offices across the country, and is Safety Act Certified by the Department of Homeland Security. Steve Jones, CEO of Universal Services of America, said, "I have admired ABM since I entered this industry almost 18 years ago. Scott Salmirs and the ABM team have built an excellent business, and I am excited that we will be partnering together. This acquisition is part of our long-term strategic plan to continue to add great people and an unmatched depth of resources into local markets around the country so that we can deliver an even higher level of services to our clients. Together, we will bring great opportunities to the ABM Security Business employees, and we will deliver new service offerings to their clients." Scott Salmirs, CEO of ABM stated: "The combination of the ABM Security Business and Universal Protection Service will provide significant benefits for our clients, including access to Universal's unique technology and high density of dedicated field resources." Wells Fargo Securities acted as financial advisor to ABM. Cleary Gottlieb Steen & Hamilton LLP acted as legal counsel to Universal Protection Service. Jones Day acted as legal counsel to ABM.
Experts sections