Mike Blackman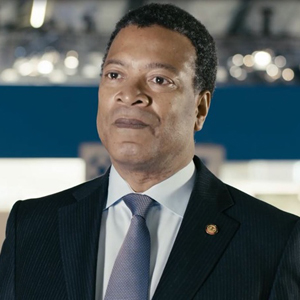 Mike Blackman
Managing Director,
Integrated Systems Europe
Mike Blackman, Managing Director, Integrated Systems Events has over 30 years of experience in the industry. His first job was at Reed International, Corporate HQ, in the accounts department. His skill set includes sales, marketing strategy, account management, sales management, integration as well as business development.
News mentions
Single-slot graphics card wins top honours in "Technology for Digital Signage" category at ISE 2017 Matrox Graphics Inc. announces that the Matrox C900 nine-output graphics card was chosen as winner in the "Digital Signage" category at the InAVation Awards held on February 7, 2017. Voters Choice With over 35,000 total votes cast for 92 products in 14 categories, the C900 card was selected as the voters' choice in the digital signage category, edging out seven other entries including products from BrightSign, AV Stumpfl and Kramer Electronics. "To be placed in a category with so many qualified products is an honor, but to be selected as winner by InAVate's readers speaks volumes about the ingenuity of both the C900 and the Matrox development team behind this product," exclaimed Caroline Injoyan, business development manager, Matrox Graphics. "We set out to provide a simple solution for building 3x3 videowalls, and we created a product that not only offers just that, but does it elegantly in a single card." Integrated Systems Europe 2017 Presented on the first night of Integrated Systems Europe (ISE) 2017, Europe's largest annual AV showcase, the InAVation Awards are driven by InAVate Magazine and ISE, honoring invention and advancement in AV technology. "Innovation is what makes ISE successful," said Mike Blackman, managing director, ISE. "InAVation Awards are the cherry on top."
Ollie French and Tobias Lang will join the nine-person ISE board of directors as of July 1st Integrated Systems Events, the organizers of the Integrated Systems Europe trade exhibition, announced the appointment of two new members to its board. Ollie French, from Future Automation and Tobias Lang from LANG AG will join the nine-person ISE board of directors as of July 1st. French works as the Commercial Director for Future Automation, a manufacturer of motorized and non-motorized mounting and concealing solutions for televisions and projectors with its primary market in the residential sector. Lang joins the ISE board of directors as CEO of Lang AG, the German-based AV sales, rental and solution provider of visual presentation technology. As manufacturers, both French and Lang will join the board on a fixed term basis. "It's extremely important that we get a fresh point of view and input into our strategic development," stated ISE Managing Director Mike Blackman talking at the InfoComm International trade exhibition. "This is why board members that are also manufacturers work with us for a two year period." Blackman went on to thank the outgoing board members, Jon LeBlanc, formerly of Russound and Damien Weissenburger, Director, Professional Systems, Sony. "Their input was invaluable in helping shape ISE's successful development," he said. The Integrated Systems Europe Board Of Directors Comprises Nine Members:- David Labuskes, Executive Director and CEO, InfoComm International (ISE Chair) Don Gilpin, Executive Director and COO, CEDIA (ISE Secretary Treasurer) Terry Friesenborg, Chief Global Officer, InfoComm International Wendy Griffiths, Executive Director, CEDIA EMEA Larry Pexton, President, Triad Speakers Jay Rogina, Principal, Spinitar Wolfgang Lenz, President, Comm-Tec Tobias Lang, CEO, LANG AG Ollie French, Commercial Director, Future Automation The Integrated Systems Europe exhibition is organized annually by Integrated Systems Events. The event is jointly owned by InfoComm International and CEDIA. The 2016 Integrated Systems Europe will take place at the Amsterdam RAI on 9-12 February 2016.
ISE takes a majority share in respect to its Digital Signage Conference, an annual event that takes place in Munich, Germany Integrated Systems Events, the company that produces the ISE exhibition, recently announced that it has entered into a joint venture agreement with invidis consulting to take a majority share in respect to its Digital Signage Conference, an annual event that takes place in Munich, Germany. The Digital Signage Conference, run in cooperation with trade association OVAB Europe, is taking place this year on 14-15 September at the Hilton Airport Hotel, Munich. It will feature a mix of presentations and workshops on digital signage and DooH technology and business topics. Invidis is a research, and communications business specializing in digital signage and Digital-out of-Home (DooH). It launched the Digital Signage Conference in 2007. Invidis has been a regular ISE partner in recent years and has run several successful digital signage programmes and installation tours around the exhibition. Integrated Systems Europe is Europe's largest trade show for AV and systems integration and is the largest digital signage exhibition in the world, with 446 digital signage relevant exhibitors at ISE 2015. It is co-owned by InfoComm International and CEDIA. ISE Managing Director Mike Blackman commented: "invidis consulting is recognized as a leading expert in the provision of content and analysis of the digital signage marketplace while ISE excels at AV event management. There will be many synergies and growth opportunities to come from this move and it further demonstrates ISE's ambition to be at the forefront of providing market intelligence and thought leadership in the sectors in which it operates." He continued, "For existing clients of invidis consulting it will be 'business as usual. All of the existing staff and management team that work on the conference will remain in place." Florian Rotberg, invidis consulting Managing Director, added: "The Digital Signage Conference in Munich has increasingly become an international event so joining with ISE to build on our current position and to develop the conference brand internationally represents the perfect partnership." The Munich event in 2015 will be followed by launches in the Middle East and Russia.
Experts sections