Maciej Polak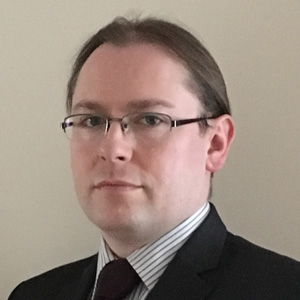 Maciej Polak
Product Marketing Manager,
Tyco Security Products
Maciej Polak is Product Marketing Manager for Tyco Security Products Intrusion brands for the EMEA region. He holds an M.A in Administration as well as an MBA from the University of Warsaw, and is a seasoned sales and marketing professional. Maciej has worked within the electronic security industry since 2002 during which he has performed application engineering and sales roles for Tyco Security Products and Visonic in Central and Eastern Europe. Most recently he has been responsible for presentations and technical training of the Tyco Security Products' DSC, Bentel and Visonic intrusion brands.
News mentions
Johnson Controls has announced that the PowerSeries Neo intrusion panel from DSC is the first intrusion alarm panel to be awarded the NF & A2P certification for cybersecurity protection from CNPP, the French national authority for risk prevention and control. The groundbreaking NF & A2P certification was awarded to DSC PowerSeries Neo under a newly created category that evaluates and certifies a security product's cybersecurity readiness. The certification recognises PowerSeries Neo's ability to withstand cyberattacks, using 128-bit AES encryption technology on Ethernet and cellular communication paths, ensuring the integrity of the system even in the event of an IP network failure. The hybrid and feature-rich PowerSeries Neo is a uniquely flexible and modular platform that can provide for a wide spectrum of intrusion industry needs Protecting Network Integrity And Privacy "Security system installers, businesses and homes in France can now select a security system with the highest confidence that it has been designed and produced using nationally recognized cybersecurity criteria designed to protect network integrity and privacy," said Maciej Polak, intrusion product marketing manger, EMEA, Building Technologies & Solutions, Johnson Controls. "Our position as the first company in France to obtain this distinguished CNPP authority recognition further highlights the Johnson Controls commitment to providing solutions that are designed with cybersecurity as a central tenant of product design and development." The hybrid and feature-rich PowerSeries Neo is a uniquely flexible and modular platform that can provide for a wide spectrum of intrusion industry needs, ranging from residential through to scalable commercial enterprises. PowerG Wireless Intrusion Technology Along with its use of 128 bit AES encryption, PowerSeries Neo capitalises on PowerG, a leading-edge wireless intrusion technology, to offer features such as Multichannel, Frequency Hopping Spread Spectrum technology, Adaptive Transmission Power, high transmission ranges and TDMA synchronized communication. The new NF & A2P cybersecurity category is awarded in collaboration with CNPP and ANSSI, the French National Agency for information systems security. To achieve certification, products are evaluated by CNPP on a variety of technical specifications, such as the overall level of security, level of access and autonomy as well as an evaluation of the manufacturer processes for development and production.
Maciej Polak has been appointed the new Product Marketing Manager for Tyco Security Products Intrusion brands for the EMEA region. Maciej, who holds an M.A in Administration as well as an MBA from the University of Warsaw, is a seasoned sales and marketing professional. He has worked within the electronic security industry since 2002, during which he has performed application engineering and sales roles for Tyco Security Products and Visonic in Central and Eastern Europe. Most recently he has been responsible for presentations and technical training of the Tyco Security Products' DSC, Bentel and Visonic intrusion brands. "We are delighted to have someone of Maciej's experience to take on this very important role," said Peter Ainsworth, Director of Product Management and Marketing EMEA. "Maciej will be working closely with colleagues throughout the region to ensure we continue to deliver the right products and solutions at the right price, together with highest possible levels of pre- and post sales support for our customers in the region."
Experts sections