Kim Cameron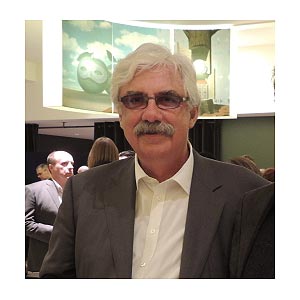 Kim Cameron
Chief Architect of Identity,
Microsoft Corporation
Kim Cameron is the Chief Architect of Identity in the Identity and Access Division at Microsoft, where he champions the emergence of a privacy enhancing Identity Metasystem reaching across technologies, industries, vendors, continents and cultures. He is a leading expert and consultant on digital identity. He played a leading role in the evolution of Active Directory, Federation Services, Forefront Identity Manager, CardSpace and Microsoft's other Identity Metasystem products. Kim joined Microsoft in 1999 when it bought the ZOOMIT Corporation. In 2009, Kim was appointed a Microsoft Distinguished Engineer. He served on RISEPTIS, the high-level European Union advisory body providing vision and guidance on security and trust in the Information Society.
News mentions
Ronny Bjones spent 30 years of his career advancing IT security and identity management EEMA, an independent not for profit, European think tank focusing on identification, authentication, privacy, risk management, cyber security, the Internet of Things and mobile applications, has presented Ronny Bjones with its Lifetime Achievement Award. Extensive Work Experience Every year at the ISSE conference, EEMA bestows its highest accolade on one individual that has made a significant and lasting contribution to IT security. This year at ISSE 2016 in Paris, the 30-year career of Ronny Bjones was recognized. Currently the Director of Cloud Identity & Privacy Services at Microsoft Corporate, Belgium, Ronny joined the company in 2002 to become its EMEA security lead and more recently he kicked-off the design and development of Azure Active Directory B2C – a cloud-based consumer identity and access management service capable of managing billions of authentications. He is also the author of several books including the Implementation of Electronic Signatures and Best Practice for Applications Using the Electronic Identity Card. Upon receiving the award, Ronny Bjones commented: "I am very honored to receive this award from EEMA. I've been collaborating with EEMA for about 25 years providing me fantastic memories and friends." Contribution To IT Security The award was presented by the Chair of EEMA, Jon Shamah, who stated: "Throughout his career Ronny has made a huge contribution to our industry, through a combination of hard-work, innovation and commitment to education and knowledge sharing. We are very proud of his close association with EEMA and we are delighted to honor him with this much-deserved award." Former recipients of the EEMA Lifetime Achievement Award include Andrea Servida, European Commission; Kim Cameron, Microsoft; Roger Dean, Founder of EEMA; and Reinhard Posch, Austrian Federal Government.
Information Security Solutions Europe is an independent, interdisciplinary security conference and exhibition EEMA, an independent not for profit, European think tank focusing on identification, authentication, privacy, risk management, cyber security, the Internet of Things, and mobile applications, confirmed Director of Innovation at Consult Hyperion, Dave Birch, and CEO of KuppingerCole, Martin Kuppinger as the keynote speakers at the ISSE 'Securing Future European Business' innovation expo.ISSE (Information Security Solutions Europe) was started in 1999 as an initiative of the European Commission Directorate General Information Society. Currently, it is Europe's leading independent, interdisciplinary security conference and exhibition.Primary Focus Of Information Security Solutions Europe 2016 Trust services, eID, and cloud security BYOD and mobile security Cybersecurity, cybercrime, critical infrastructures CISO Inside, management of privacy, and data protection Biometric applications Regulations and policies "We will be bringing together someof the greatest minds in the worldof security and identity, for two daysof education, best practice sharing,business, and networking" Keynote Speakers Dave Birch and Martin Kuppinger join Kim Cameron, Chief Architect of Identity at Microsoft and Bernard Ourghanlian, Chief Technology and Security Officer at Microsoft France at ISSE 2016, which is taking place at the at the Innovation Campus, 92130 Issy-les-Moulineaux, Paris on 15th and 16th November. Chair of EEMA, Jon Shamah, comments: "We have assembled a strongest ever line-up of speakers for our most comprehensive ever ISSE program. In November, we will be bringing together some of the greatest minds in the world of security and identity, for two days of education, best practice sharing, business, and networking. It is a must attend event for everyone in the security industry."Participating OrganizationsISSE 2016 is being hosted in collaboration with EEMA and ENISA, with support from Microsoft and Cryptomathic. Organizations participating in the conference program include the Azerbaijani Mobile ID Centre, Banca Intesa ad Beograd, certSIGN, FabLab, Fraunhofer Fokus, Gemalto, Gluu, Institute for Defense Analyses, KU Leuven, Open Identity Exchange, Platform Identity Management, PwC, Safran Identity & Security, SAP, SGMAP, Signicat, Strong Horse, time.lex, Utimaco IS GmbH and Verizon Enterprise Solutions. Save Save
EEMA also revealed Microsoft's Kim Cameron and Bernard Ourghanlian as keynote speakers for the event EEMA, the leading independent European think tank focussing on identification, authentication, privacy, risk management, cyber security, Internet of Things and mobile applications, have announced that Paris will be the host city for the Information Security Solutions Europe (ISSE) 2016 conference and exhibition. EEMA has also revealed Kim Cameron, Chief Architect of Identity at Microsoft and Bernard Ourghanlian, Chief Technology & Security Officer at Microsoft France, as keynote speakers. ISSE is Europe's leading independent interdisciplinary security event and the 17th annual event will take place on the 15th and 16th November, at the Innovation Campus, 92130 Issy-les-Moulineaux. More than 300 international delegates will participate in an education program comprising of 40 keynote, seminar, workshop and networking sessions. The conference will be opened by Chair of EEMA and member of the ISSE 2016 program committee, Jon Shamah. He will also introduce the keynote speaker, Kim Cameron, Chief Architect of Identity at Microsoft and the inaugural winner of the EEMA Lifetime Achievement Award in 2012. Jon Shamah, comments: "ISSE is returning to Paris for the first time since 2002. From then till now we have lived through a truly global digital revolution, with the emergence of social media, the exponential growth of always-on smart devices, the Internet of Things, the cloud and countless other innovations, all powered by near universal connectivity. However, the function of ISSE has remained the same, to help IT security professionals and information systems practitioners rise to the new and evolving challenges of the day and prepare the world for tomorrow."
Experts sections