Chip Shiver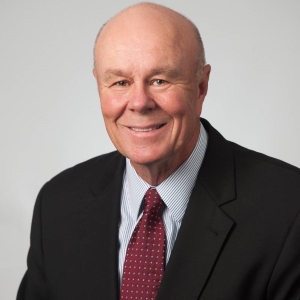 Chip Shiver
President,
Sonitrol
Chip Shiver is working as a President at Sonitrol of SW Ohio. He has been a part of the organization for more than 48 years, having previously worked as a Sales and General Manager.
News mentions
Sonitrol of SW Ohio has acquired Sonitrol of Butler County and their non-Sonitrol company Southwestern Ohio Security. The acquisition officially closed effective July 6th, 2020. The firm, that operates an independent franchise of Sonitrol, has served the Greater Cincinnati and Northern Kentucky areas since 1971. Business expansion The expansion is reflective of both their ongoing commitment to local and surrounding communities as well as a market need in both the residential and commercial security sectors. Strategically, the acquisition affords consolidation, uniform local monitoring from their proven Central Station, and will establish additional market penetration in Southwest Ohio and Northern Kentucky. "We're excited about the opportunity to do what we do best for even more people and businesses across Southwest Ohio and Central Ohio," said Chip Shiver, President of Shiver Security Systems and Sonitrol of SW Ohio, adding "Our technology, our local monitoring station, and our ever-important partnership with local police are the key factors in our continued growth." Strategic acquisition It's always about people and we believe we have the very best talent in the region when it comes to professional security" Chip adds, "It's always about people and we believe we have the very best talent in the region when it comes to professional security. Combining two organizations with a very similar footprint in relatively the same market makes this acquisition very exciting for us. Simply put, we are merging two longtime Sonitrol families, which create additional market penetration for the organization." Mike Pope, President of Sonitrol said, "The merger of our staffs will provide our clients with a local U.L. central station and an increased number of technicians to provide a level of service unmatched in Southwest Ohio and Northern Kentucky. Many of our family members over the decades have been a part of our organization." He adds, "Our dedicated and professional staff, which has been dependable and loyal for 48 years, is family too. Rex Shiver and Jim Pope built the foundation for both companies. I am sure that Rex and Jim are looking down and saying, Congratulations sons!" Sonitrol of Butler County Sonitrol of Butler County was established in the early 70's by Mike Pope's father, Jim Pope. Mr. Pope stepped in to take over from his father several years ago to grow and run their organization. Pope and Shiver share a similar story of family leadership. The two also recount a bit of nostalgia as Shiver's father sold Pope's father his Sonitrol franchise nearly fifty years ago. Sonitrol of SW Ohio continues to add local security professionals to their roster making them one of the largest security firms in the region.
Shiver Security Systems and Sonitrol of SW Ohio, a commercial and residential security company based in Dayton and Cincinnati announces the recent acquisition of four new companies servicing SW Ohio. The four companies: 995 Security, Security Services Center, Wilmington Security Systems and Apex Alarm Company. "We liked these companies because their operating footprint and customers mirror ours as well as their commitment to the core values we share" says Chip Shiver, President. Providing a better experience "We are hoping to grow our company with these new acquisitions, allowing us to reach more customers and provide an even better experience and service to our existing and future customers" says Alison Shiver, Head of Marketing for Shiver Security. "We are always excited to expand and hope to take our business to the next level." "This merger is a great opportunity to create more relationships with new customers. We are very excited to have Tony Shanks and Tim Sparks helping us with this purchase" says Wayne Lisle, VP of Shiver Security. "Tony and Tim will help ensure that all of the current customers will have a seamless transition to Shiver Security Systems and support our mission which is Building Lifetime Relationships with Our Customers by Exceeding Their Expectations." Says Chip Shiver, President.
Over a fifteen-month period, Sonitrol has opened new franchises and expanded current markets in eight states including Illinois, Indiana, Kentucky, Ohio, Connecticut, Massachusetts, California and Florida. The expansion of current markets where Sonitrol has a footprint assists in the growth of the Sonitrol brand and secure more businesses with the best in verified electronic security, keeping our communities safe and keeping more criminals off the streets. "Sonitrol is excited to continue to expand our footprint and bring best-of-class service and verification technology to every market in North America," says Julie Beach, VP of Sonitrol Corporate. "The need for alarm verification and false alarm reduction is growing in every community. We pride ourselves in providing police with the very best information to improve their safety and increase police response time to our clients." In addition to this exciting growth, Sonitrol is celebrating its 55th anniversary this year Celebrating 55th anniversary In addition to this exciting growth, Sonitrol is celebrating its 55th anniversary this year. Bryan Bates, VP of Sales of Sonitrol of Northeast Florida and Sonitrol of Lexington says, "I have always been impressed with the entrepreneurs of the Sonitrol family. My mother and father worked for Sonitrol of Dallas before taking the chance on purchasing their own Sonitrol dealership in Lexington, KY in 1984. "With our recent opening of Sonitrol of NE Florida in 2018 and continuing to grow the Sonitrol of Lexington business, my brother, Jeremy Bates, and I can continue the legacy and provide the best security technology in the industry." Tested and verified security services Expansion for us to Columbus, Ohio is very exciting especially with Sonitrol's tested and proven verified security services"Chip Shiver, President of Sonitrol of SW Ohio, also has found recent success in growing the Sonitrol presence from the SW Ohio area to expansion in Columbus, OH. Shiver says, "Expansion for us to Columbus, Ohio is very exciting especially with Sonitrol's tested and proven verified security services. Sonitrol's enhanced verified technology and our many years of operation in Cincinnati, Dayton, and Springfield brings huge opportunities for us in Columbus, Ohio." Sonitrol of SW Ohio has been in business since 1971. Lastly, Sonitrol of Fort Lauderdale recently expanded the Sonitrol brand to the Miami-Dade market. John Ray, President & CEO, says, "Sonitrol's unique verified intrusion technology has grown over the past 55 years to become part of a world-class integrated security solution, keeping us at the forefront of protecting people and assets. Here in South Florida, we've expanded our franchise area with the recent addition of the Miami market, paving the way to providing more businesses in Dade County with the best security technology available on the market."
Experts sections