Anne Bouverot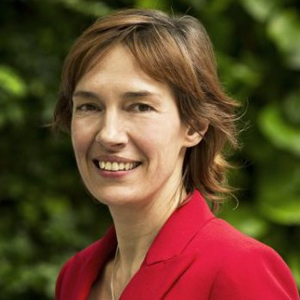 Anne Bouverot
Chair and CEO,
Morpho
Anne Bouverot is the Chair and CEO of Morpho (Safran). She is a graduate of the Ecole Normale Supérieure, with a telecommunications engineering degree, and holds a PhD in computer science. She started her career as an IT project manager for Telmex in Mexico, moving to Global One in the United States. She was named Vice President, IT services business unit at Equant in 2002. Two years later she became Chief of Staff to the Orange CEO in the UK, then Executive Vice President, Mobile Services for France Telecom Orange. In 2011, she was named Director General and a member of the Board of Directors of GSMA, the global association of mobile operators. In addition, she is a member of the Boards of Directors of CapGemini and Edenred.
News mentions
Safran's biometric system provides search, analysis and matching services for fingerprints and palm prints Safran Identity and Security, a global leader in identity and security solutions, has supplied a facial recognition solution to the National Police of the Netherlands. The nationwide system, which includes workstations for facial search, comparison and analysis was recently launched at the National Forensic Service Center. Dutch police officers can now submit a facial image for search against their databases and save precious time. This facial recognition system is an extension of the biometric services that have been successfully delivered over many years by Safran Identity & Security in the Netherlands. The original system provides search, analysis and matching services for fingerprints and palm prints. Key Capabilities MorphoBIS Face Expert offers advanced investigation functions with forensic image analysis and comparison tools. MorphoBIS Face Detective allows investigators to rapidly search for criminal portrait images and assemble photo line-ups for fast analysis. Both programs accept multiple image file formats for maximum leveraging of available images in searches. Mission-Critical Capability John Riemen, Manager of the Netherlands National Criminal Automated Biometric Identification System (ABIS), calls the facial recognition system a new mission-critical capability. He stated, "It's important for the public to understand that the automated search provided by the system is only the first step in finding a match for a face in a database. Possible matches are reviewed by two trained human experts, working independently. Simply stated, our system assesses and evaluates the similarity between the probe and candidate images. Only trained human examiners can provide an expert conclusion." Anne Bouverot, Chair and CEO of Safran Identity and Security, commented, "Safran Identity and Security is honored to further extend the long term, trusted partnership with the National Police of the Netherlands in delivering advanced biometric tools to maximize its investigation capabilities."
The new facility will include biometric identification and authentication technologies Safran Identity & Security announced the opening of a location in the Silicon Valley at the end of 2016. Strategic Positioning Near High-Tech Communities Located in Redwood City, the new facility will be strategically positioned near the Silicon Valley and San Francisco high tech communities, featuring an innovation center with a specific focus on digital payment, digital identity and the Internet of Things (IoT). Visitors will be able to interact with Safran's hardware and software solutions and experience how the company drives digital transformation across the entire customer experience. This will include Safran's industry leading biometric identification and authentication technologies, featuring fingerprint, facial recognition and iris biometric sensors, cloud-based solutions and software development kits for mobile devices. Enabling Development Anne Bouverot, CEO, Safran Identity & Security, said, "Being at the forefront of biometrics, digital identity and security technologies, it was the next logical next step for us to become a part of the vibrant innovation community in Silicon Valley. Through our new location, we want to enable the development community to interact with our products so that together we can design even better solutions."
Morpho (Safran), the world leader in security and identity solutions, recently announced that its biometrics authentication solution has been certified by the Fast IDentity Online (FIDO) Alliance. Face Recognition For Smart Phones And Tablets Morpho's Face authenticator utilizes face recognition for smart phones and tablets to replace traditional user verification methods (e.g., PIN, password). The certification validates the quality of the Morpho's implementation of FIDO standards and ensures interoperability among other FIDO compliant products and services. With this solution, service providers can easily deploy facial authentication to secure access to their services for all customers on devices currently on the marketplace. With its first in class liveness detection technologies, which ensure that the face submitted is captured from a live user (and not a photo, for example), Morpho's solution quickly provides universal and strong authentication that replaces passwords with easier to use, more secure and private authentication. Biometrics Online Authentication Protects Against Hacking & Identity Theft Through an ever-expanding ecosystem, Morpho continues to work with customers and partners to implement biometric authentication solutions more quickly and efficiently, helping drive increased adoption among consumers. Morpho is developing highly secure and convenient solutions that are aligned with FIDO Alliance's mission to revolutionize the nature of online authentication. Protecting users from hacking, identity theft, biometric security technology is a solution that offers convenience while guaranteeing a high level of security. Morpho Chair and CEO Anne Bouverot said: "The days of relying exclusively on password-based security are coming to an end. Through face recognition, a simple selfie enables users to both prove and link their unique identities to their smart phones and tablets. In the fight against identity fraud for mobile transactions, Morpho is developing with FIDO viable solutions which are easier to use and protect consumers."
Experts sections