Andrea Carmignani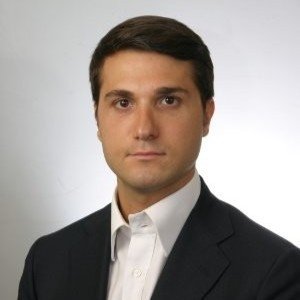 Andrea Carmignani
Co-Founder & CEO,
Keyless
Andrea is the Co-Founder & CEO at Keyless. He has worked in various other roles like strategy management consultant at Roland Berger and Business Strategy Analyst at Accenture. Andrea completed his MBA in entrepreneurship from INSEAD and his BSc and MSc from LUISS Guido Carli University.
News mentions
Keyless Technologies, the privacy-preserving, identity company announced FIDO2 Certification for its proprietary biometrics technology. This comes just months after Keyless became one of only seven providers globally to receive FIDO Biometrics Certification, validating that Keyless' facial recognition technology meets industry standards for user verification and spoofing detection accuracy. Achieving certification in both Biometrics and FIDO2 confirms that Keyless' biometric authentication software meets the highest global standards for authentication and makes Keyless unique in a market that is demanding ever more security, privacy, and crucially interoperability, all while simplifying and enhancing user experience. Passwordless and multi-factor authentication solutions The platform eliminates the need to store and manage sensitive information via a quick, intuitive user experience The Keyless biometrics platform enables organizations to deploy passwordless and multi-factor authentication solutions. The platform eliminates the need to store and manage sensitive information, enabling organizations to protect their users with one, simple action, via a quick, intuitive user experience. The technology combines multi-modal biometrics with advanced cryptography, leveraging distributed cloud architecture. Due to the way Keyless leverages these technologies, privacy is preserved for the user and regulatory requirements, such as GDPR and PSD2 are not just met, but exceeded. This has a meaningful impact not just on employees, but on organizations relying on strong customer authentication in areas such as mobile banking and payments. Also, there is no need to rely on the device hardware or operating system, which means organizations can innovate and deploy their applications and services faster, regardless of which devices their employees use - for example replacing hardware tokens and instead of using cellphones as security keys. Next-gen biometric authentication Keyless is integrating the FIDO2 certified technology into both its workforce and consumer offerings"In today's digital world, the average person needs to remember more than 100 passwords so it's no wonder that Verizon attributes 84% of security breaches to compromised passwords. Organizations are now working to adopt zero-trust; identity-first security to protect their users and our mission at Keyless is to make accessing digital services seamless, safe, and private from any device." " Achieving these two certifications from The FIDO Alliance is a crucial step on that journey and we're proud to be the first to bring the next generation of biometric authentication to the market," said Andrea Carmignani, CEO and Co-Founder at Keyless. Keyless is integrating the FIDO2 certified technology into both its workforce and consumer offerings, enabling organizations to choose whether to use FIDO2 when implementing Keyless for employees or consumers.
Keyless, a pioneering privacy-first biometric authentication firm announced that it has joined the DizmeID Foundation, to develop an open ecosystem for decentralized management of digital identities. Control over digital identity DizmeID Foundation operates to combine the benefits of self-sovereign identity with necessary compliance and regulation, to enable wallet holders with ownership and control over their digital identity, data access, and distribution. Keyless will work alongside Algorand, Fabrick, and InfoCert within the foundation to make it easier and more secure for users to share their personal information in exchange for blockchain-based services. Blockchain technology "Many users find the idea of blockchain services intimidating and that has caused the adoption of this revolutionary technology to be painfully slow." By integrating with Dizme, the biometric software will make it more intuitive for users to enroll, and benefit from" "We hope that by integrating with Dizme, that our biometric software will make it more intuitive for users to enroll, and begin benefitting from the services offered on its decentralized identity platform," said Andrea Carmignani, co-founder and chief executive officer at Keyless Technologies. Digital Identity verification Dizme enables organizations to both issue and verifies a user's identity through verifiable digital credentials – a digital version of a real-world identity document such as a driver's license or birth certificate. "The way organizations manage their customer's personal data must change if we want to stop privacy and security breaches from being a daily occurrence," said Daniele Citterio, DizmeID Foundation Chairman. "Currently, our identities are managed by multiple, siloed parties – like private and public organizations. Not only can this leave us exposed to a higher number of threats, but it can also create friction during the identification process," Daniele Citterio continued. Digital credentials With Dizme, organizations can issue and verify verifiable digital credentials to provide services, goods, or resources to users. Once a user has their digital credentials issued to them, they can choose to share their credentials with organizations via their Dizme wallet. Data security "Verifiable digital credentials can help build trust between organizations and users, while also enabling users to control what personal information they share with organizations, and how long for, to ensure their data is not being misused or mishandled" explained Daniele Citterio. Zero-trust authentication platform Keyless zero-trust authentication platform offers strong compliance while ensuring biometric data is never at risk Keyless zero-trust authentication platform offers strong compliance with obligations outlined in the European Union's General Data Protection Regulation – while also ensuring biometric data is never at risk of being compromised or mishandled – making it easier for both companies to target enterprises who need to meet strict compliance obligations. Privacy based biometric solution "At Keyless, we understand that for organizations to fully realize the benefits of emerging technologies, we must make them compliant, private, and secure." "To protect biometric data from threats, we've combined the security benefits of distributed architecture with privacy-enhancing cryptography. The result is a zero-knowledge biometric solution that ensures biometric data and other personally identifiable information is never at risk," explained Carmignani. DizmeID Foundation Joining the likes of Algorand, Fabrick, and InfoCert, this integration also marks Keyless' participation as a founding member to the DizmeID Foundation – the first decentralized identity network that combines the benefits of decentralized identity as well as the compliance to eIDAS regulations.
Keyless joins the FIDO Alliance to help accelerate the Alliance's mission to end over-reliance on passwords with its privacy-first biometric authentication solutions The FIDO Alliance is a cross-industry coalition developing open, interoperable authentication standards that reduce reliance on passwords. The alliance was formed in July 2012 to address the lack of interoperability among strong authentication technologies and remedy the problems users face with creating and remembering multiple usernames and passwords. Secure authentication solutions "We are excited to welcome our newest associate member Keyless. The FIDO vision of universal strong authentication promises better security, enhanced privacy, more commerce, and expansion of services throughout digital industries. Keyless' addition to our Alliance supports our industry goal to make user authentication easier and safer for all parties," said Andrew Shikiar, FIDO Alliance executive director and CMO. Keyless combines multi-modal biometrics with zero-trust security to provide fast, frictionless authentication experiences that offer strong adherence to regulations such as GDPR and Strong Customer Authentication (SCA), a requirement of Europe's revised Payment Services Directive (PSD2). "The demand for passwordless solutions is growing exponentially, we look forward to collaborating with Alliance members to help accelerate the adoption of intuitive and secure authentication solutions," said Andrea Carmignani, Keyless Chief Executive Officer and Co-Founder.
Experts sections