New reader to launch at IFSEC
A4Vision Inc. announced it would make the European launch of its new Vision Access 3D Face Reader with optional touch screen at IFSEC in Birmingham. The Vision Access 3D Face Reader, the world's first sub-second facial identification/verification reader, now incorporates a touch screen option that accommodates PIN and 3D facial biometric access in one device. The reader's LCD screen provides active feedback to users indicating optimal positioning for fast identification; now, the same screen may double as a touch screen pad for verification mode applications.
In a live scenario, the touch screen option would present first. Subjects approaching the A4Vision readers will first be offered the touch screen keypad, while hearing audio requesting PIN entry. Upon valid PIN entry the reader's screen converts to 3D facial recognition mode with active feedback. In PIN verification mode the A4 system first accepts a valid PIN entry and then will reference the 3D face template stored with that number in the Database. The system then verifies that the person belongs with the PIN by matching the stored template to the person standing in front of the 3D Face reader.
"While A4Vision is at the forefront of facial recognition, we endorse multiple factor security and recognize the value to the markets to offer security options with economy, ease of use, and speed," said A4vision director of Product Management Ryan Zlockie. "As biometric identification processing becomes widespread in government, civil ID, and consumer applications, A4Vision's Vision Access 3D Face Reader is ready to meet a wide range of needs and applications within a single product."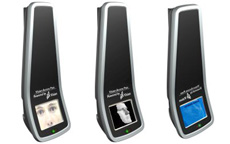 A4Vision innovations in 3D data capturing and processing have produced renowned industry-leading accuracy in real-time facial recognition and tracking. A4Vision readers perform both verification and identification in real-time, accommodate variable angles and changing light conditions, including night, accommodate motion and provide a completely passive, non-invasive mode of identification with consistently high rates of accuracy.
The Vision Access 3D Face Reader is available now and will be available by April 30 with the touch screen option.
A4Vision offers 3D face recognition products through companies such as IDLink, Logitech, NTT Communications, Singapore Technologies, Sagem, Securitas, SITA, Thales, and global partners Motorola, Siemens, and Unisys.
More on A4VisionTM
Download PDF version
Download PDF version