Amar Singh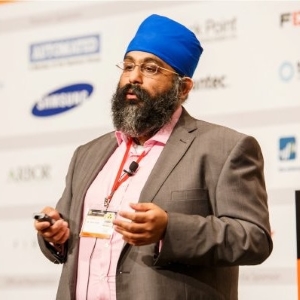 Amar Singh
CEO and Founder,
Cyber Management Alliance
Amar Singh is the CEO and Founder at Cyber Management Alliance Limited. Previously Amar Singh was a Trusted Advisor at Euromoney Institutional Investor.
News mentions
Cyber Management Alliance, the global frontrunner in cyber crisis management and training, is delighted to announce that its highly popular course, Cyber Incident Planning & Response (CIPR) has become the first course to be certified by the recently-rebranded NCSC's certified training scheme, provided by APMG International. The Cyber Management Alliance course was first certified by the Government Scheme in 2016 and is also accredited by the Chartered Institute of Information Security (CIISec). Interactive, practical, and immersive, the entire course can be conveniently completed by attending a virtual classroom or via a self-paced e-learning environment. Besides gaining imperative insights into key cyber risk-reducing controls for their business, course participants also have the advantage of being trained by Amar Singh, renowned across the globe as one of the top cybersecurity practitioners and the founder and CEO of Cyber Management Alliance. Online delivery program Speaking on the launch, Amar said, "I am delighted that APMG has awarded NCSC Certified Training status for the CIPR course, including its online delivery program. The updated and comprehensive course is accessible for all levels of management and technical audiences. The CIPR course is a complete guide to planning and responding to a cyber crisis or a data breach." APMG-International's COO, Nick Houlton, said, "Protecting individuals, teams and organizations from the financial and reputational damage of Cyber Incidents is at the heart of the Information Security Agenda. APMG is delighted to certify this course on behalf of the UK National Cyber Security Center and looks forward to its continuing success in the market." Online training Over 300 organizations in 20 different countries have benefitted from the course and internal workshops" Cyber Management Alliance's co-founder, Bal Rai, said, "We are pleased to have received NCSC Certified Training certification status. Over 300 organizations in 20 different countries have benefitted from the course and internal workshops and with the launch of the online training it means every organization, globally, can access the knowledge and skills at any time." Previous participants of the NCSC-Certified CIPR workshop have come from organizations including the United Nations, UK Ministry of Defense, several UK Police Forces, NHS Trusts, European Central Bank, Swiss National Bank, Microsoft, Ernst and Young and many others. Responding to a cyber incident One of the course attendees, Wayne Parkes, Head of ICT - Warwickshire Police UK, had this to say: "Quite a difficult subject to get over sometimes but I think Amar presented it really well. Nice mixture of technical knowledge and practical examples. Good for a very mixed audience as it wasn't overly technical. I highly recommend it in terms of bringing a mixed group up to speed with the importance of responding to a cyber incident, and what the essentials are, about dealing with it."
In an already inspiring line-up, Infosecurity Europe, Europe's number one information security event, is delighted to announce that renowned broadcaster and author Kate Adie will be delivering the opening Keynote at this year's event on Tuesday 4 June (10.15-11.05am). Also announced is Jamie Bartlett, bestselling author of The People Vs Tech, The Dark Net & Radicals and Senior Fellow and former Director of Demos who will open day 2, Wednesday 5 June (10.15-11.05am) and former CEO of Lloyd's of London, Dame Inga Beale also on 5 June (11.25am-12.05pm). Security Challenges 'Perspectives from the Frontline' will see Kate Adie presenting on 'Managing Risk and Building Resilience' 'Perspectives from the Frontline' will see Kate Adie presenting on 'Managing Risk and Building Resilience'. From her time as Chief News Correspondent at the BBC, Kate covered most of the world's hotspots and war zones, broadcasting from the Gulf War and Tiananmen Square. During this presentation Kate will share some of her experiences and discuss how she managed risk, safety and security in highly dangerous situations. She will talk about how she remained resilient and the inspiration she has drawn from her experiences to help spark fresh perspectives on risk, resilience and the security challenges facing organizations. Delivering Digital Transformation Jamie Bartlett, Senior Fellow and former Director of the Center for the Analysis of Social Media, Demos, and best-selling author, will deliver the opening keynote on day 2, Wednesday 5 June (10.15-11.05am), sharing a journey of discovery, with insight into how technology is changing society. From cybercrime and surveillance to privacy, data and democracy, this inspiring presentation will provide a fresh perspective on the challenges facing the cybersecurity community. Former CEO of Lloyd's of London, Dame Inga Beale will give a keynote on Weds 5 June (11.25am-12.05pm), giving her 'View from the Board' where she will be sharing her views on Managing Organization Complexity and Risk, how to change business and culture and the need to balance tradition and history, and modernity and innovation when delivering digital transformation. She will discuss the challenges of managing a complex organization, along with her perspective on cyber risk and how the board and information security function should be communicating and collaborating. Fighting Cyber-Crime Whether it's driving digital transformation or fighting cyber-crime, everyone has a role to play and collaboration is key" "Whether it's driving digital transformation or fighting cyber-crime, everyone has a role to play and collaboration is key. I'm looking forward to meeting and hearing from some of the best cyber security experts around at Infosecurity Europe." Dame Inga Beale. The Infosec Keynote Stage addresses the challenges of building strong cybersecurity strategies and tactics to protect an organization's critical information assets as the world around us transforms. Following extensive research with the information security end-user community and consultation with an Advisory Council of senior industry practitioners, the Keynote Stage is the vibrant hub of the Infosecurity Europe conference program. Delegates gain direct access to information security knowledge and expertise from some of the industry's leading end-user practitioners, policy-makers, analysts and thought-leaders. Speakers And Moderators Other speakers and moderators confirmed for the Keynote Stage include: Troy Hunt, Founder, Have I Been Pwned, Microsoft Regional Director Chief Constable Goodman of Derbyshire, NPCC Lead for Cyber Linda McCormack, Head of Internal Communications, Anglian Water Services Flavius Plesu, former Head of Information Security, Bank of Ireland Killian Faughnan, Group CISO, William Hill Florence Mottay, CISO Europe, Ahold Delhaize Dr Keyun Ruan, Google Cloud Engineering, Google Tom Cignarella, Director of the Security Coordination Center, Adobe Gavin Ellis, CISO, Nuclear Decommissioning Authority Shawn Scott, Head of Information Security, Thames Water Matt Gordon-Smith, CISO, Anglo American Talal Rajab, Head of Program – Cyber & National Security, techUK Ewa Pilat, Global CISO, Jaguar Land Rover Bobby Ford, VP & Global CISO, Unilever Kevin Fielder, CISO, Just Eat James Lyne, Infosecurity Hall of Fame Alumnus David Boda, Head of Information Security, Camelot Stefan Treloar, Head of Information Security & Business Continuity, IG Group Dee Deu, CISO, British Land Maxine Holt, Research Director, Ovum Deborah Haworth, Head of Information Security, Penguin Random House UK Peter Brown, Group Manager Technology Policy, Information Commissioner's Office Titta Tajwer, CISO, News UK Steve Wright, GDPR & CISO Advisor, Bank of England Brian Honan, CEO, BH Consultant, Infosecurity Hall of Fame Alumnus Adam Banks, Chief Technology & Information Officer, Maersk Nigel Spencer, Vice President, Security Operations, Vocalink Real Time Payments Amar Singh, CEO & Founder, Cyber Management Alliance Paula Kershaw, Head of Cybersecurity, Europe & UK, HSBC Infosecurity Europe, now in its 24th year, takes place at Olympia, Hammersmith, London, from 4-6 June 2019. It attracts over 19,500 unique information security professionals attending from every segment of the industry, including 400+ exhibitors showcasing their products and services, industry analysts, worldwide press and policy experts, and over 200 industry speakers are lined up to take part in the free-to-attend conference, seminar and workshop program.
Experts sections