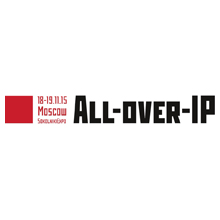 All-over-IP Expo 2015 serves major video surveillance vendors with their partner ecosystems
Video surveillance storage solutions are rapidly adopted and estimated to grow at 16.3% CAGR, reaching a market size of $10.41 bln in 2018. Storage vendors have been quick to capitalize on the exciting growth on the video surveillance market and by now offered solutions tailored specifically for video archives.
Build Strategic Partnerships In Russia
Global data storage vendors are welcome to leverage All-over-IP Expo 2015 video-centric infrastructure to expand into new markets, increase brand awareness, generate quality leads, educate local customers and the channel, and build strategic partnerships in Russia.
5000 visitors are carefully pre-qualified customers.
70% of all visitors are sales partners.
72% of all visitors source video surveillance.
37% of all visitors attend Smart & Safe City conference.
25% of all visitors attend Intelligent Video 2.0 conference
Storage revenues are to outpace that of cameras as the storage vendors ship more capacity to keep up with a growing number of camera feeds, migration from analog to IP and high resolution cameras.
Revenue For HDDs Will Rise By 57%

Revenue for HDDs in video surveillance applications will rise from $638.7 million in 2015 to $1.0 billion by 2017, a remarkable 57% increase. HDD industry will reap the benefits of a fast-growing video surveillance industry that requires ample storage, with the need for HD video, network connectivity and cloud storage.
All-over-IP Expo 2015 serves major video surveillance vendors with their partner ecosystems. Join to meet up with key local customers from the fastest growing segment on the data storage market!
Primary Sponsor: ITV | AxxonSoft – a leading software developer that combines IP-based physical security management, intelligent video surveillance, and an enterprise-wide platform.
Education Sponsor: Milestone Systems – a global industry leader in open platform IP video management software.
Download PDF version
Download PDF version