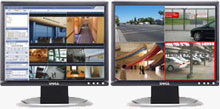 On-Net Surveillance Systems, Inc. (OnSSI) aims to promote its products further afield

On-Net Surveillance Systems, Inc. (OnSSI) has announced the addition of four new manufacturer's representative firms to promote sales of its open architecture IP-based video surveillance software solutions in the Midwest and Southern United States.
"As a supplier of best-in-breed software to empower video surveillance management, OnSSI looks to the best-performing rep firms to join our team," said Kevin Bradley, Director of North American Sales, OnSSI. "We are proud to add these established, successful businesses to our stable of sales partners, and we look forward to the expanded presence their representation will provide for us in the market."
The following rep firms are joining the OnSSI team:
Cabling Technologies, Inc., Sunrise, FL, which will serve parts of Southern Florida. Historically specializing in structured cabling equipment, Cabling Technologies provides Florida's end-users, contractors, consultants and distributors with end-to-end, high-performance solutions to meet all their infrastructure needs. Additional sales offices are located throughout Florida.
Logically Integrated Network Components (LINC), McDonough, GA, which will serve Georgia, Alabama, Mississippi, Eastern Tennessee and Northern Florida. Customizing their services for each client's needs, LINC's professionals have more than 75 years combined industry experience dealing with low-voltage (IP) infrastructure and connectivity products.
Physical Layer Technologies (PLT), Downers Grove, IL, which will serve parts of Illinois. With a mission to be a resource to their clients, PLT assists with data centre layout, structured cabling configuration and technology deployments, while positioning solutions to meet client requirements.
Tec-Rep, Cleveland, OH, which will serve Indiana and Kentucky. Tec-Rep takes pride in their technical capabilities and works with the integrator or distributor on the complete project, from initial demo to the final in-service.
OnSSI's IP video surveillance control and management solutions deliver feature-rich camera management, intelligent detection and delivery and advanced video monitoring and investigation. Benefits include sophisticated recording and archiving, automatic Push Live Video on event, control-room video-wall management and virtual matrix functionality.
Download PDF version