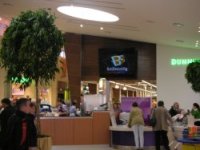 Background
The retail sector in Ireland has seen strong consumer expenditure in the last few years. In addition to providing growth opportunities for national brands, global retailers including Harvey Nichols, H&M Hennes, La Senza, Footlocker and Jessop's have entered the Irish market.
The traditional centres of Irish towns are often unable to accommodate the growing need for both commercial and residential property that this boom has spawned. As a result, new satellite shopping centres are springing up in key locations around the country.
Ballincollig New Town Centre in County Cork is one such development. 10,000 square metres, with 34 retail units, it opened in October 2005 and currently welcomes 50,000 visitors per week, a number that will rise as the population of Ballincollig itself is predicted to double in the next three years.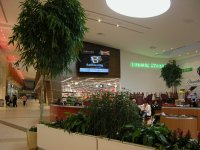 The challenge
O'Flynn Construction, the developer of Ballincollig New Town, recognized that the shopping centre would face stiff competition from similar offerings being built around Cork. It therefore approached digital media network specialist, Radiant Ireland to design and implement a visual feature in the centre's focal point, the Winter Garden Café.
The objective was to engage visitors with eye-catching and informative displays. In providing a pleasing environment, the developers aimed to differentiate the centre from others in the region, and encourage shoppers to spend more time there.
The solution
After recommending a digital signage solution, Radiant installed Ireland's first suspended video wall using Margay rear projection cubes from digital display provider Clarity Visual Systems. As the area had shop fronts on all sides, any display had to be above store eye line and large enough to engage an audience. The nine units are mounted a three by three configuration that results in a 3.8M diagonal display, 3.3 x 1.9 metres in size, four metres above floor level, and tilted at a 15 degree angle. Margay cubes are 'zero mullion' - they display their picture to the edge of the screen so there are no frames between units - and the overall effect is a 'Big TV'.
When selecting the type of display technology, the environment and use need to be taken into account. For example, the Margay screens provide a good quality image in daylight, essential for a shopping centre. They are also wide screen and high-resolution, so the picture quality does not degrade as shoppers move in relation to the unit.
Darach Kelly, Managing Director of Radiant Ireland states: "Ballincollig Shopping Centre represents the new face of retail in Ireland. As such it was essential that we installed state-of-the-art technology that would engage the audience yet be robust enough for this environment. Clarity Visual's Margay screens ticked all the boxes."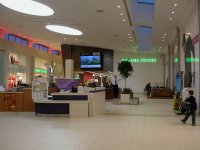 Screen content at Ballincollig, which is managed remotely, is a mixture of entertainment, public information, centre branding, third party advertising, and continuous news feed in the form of a ticker display. Live events, such as sports matches, are also broadcast as appropriate from terrestrial or satellite television.
Adding value
In order to meet stringent health and safety standards, Radiant commissioned a specially constructed steel frame on which to suspend the screen, which weighs around 800 kilograms. The built-in electric hoist system allows the wall to be easily lowered for access.
The solution also makes use of Clarity Visual's WallNet monitoring system that remotely controls and diagnoses the working status of the screens. For example, should any maintenance or repairs be required, even to the extent of a replacement bulb being needed, an engineer is immediately alerted by SMS in order that any downtime is kept to a minimum.
Engaging the customer
Jim O'Leary, Shopping Centre Manager at Ballincollig, concludes: "Our 'Big TV' makes Ballincollig much more than a shopping centre and truly differentiates us from the competition. In providing a variety of entertainment and information we have developed an additional communication channel with which to engage and expand our customer base."
Download PDF version