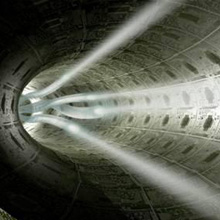 Dark fibre, used to deliver high bandwith to schools
Siemens Building Technologies Security Systems has secured a £4 million contract to supply an innovative CLEO telecoms network to 48 schools across the north west of England. The new 40km dark fibre network will deliver high bandwidth (100 megabytes) and meets the Government requirement to provide top quality private broadband networks in schools whilst keeping operating costs down.
Siemens has secured the contract through Cumbria and Lancashire Education Online (CLEO), which provides a high quality private broadband network for all schools across Cumbria and Lancashire. Typical applications for the network includes use of broadband technology in the classroom, provision of virtual learning environments, video conferencing and online teaching, learning resources and supporting pupils learning at home and teachers in their work.
Deborah Murrell, Project Manager for CLEO explains: "We were looking for a communication network that offered a secure solution, provided value over time and would be capable of meeting the demands for bandwidth in the classroom well into the future. Having control over dedicated fibre networks, as we will have in this case, is proving a cost competitive way of meeting the growing demands for bandwidth from schools."
Peter Hawksworth, Siemens Building Technologies Security Solutions managing director explains: "Public sector organizations, whether in central or local government, health or education are facing a huge growth in data traffic. They are under constant pressure to achieve maximum value for money, driving many to seek the option of owning their own dedicated fibre network. This gives customers the freedom to create the platform that best fits their requirements."
CLEO aims to provide a high quality private broadband network for all schools across Cumbria and Lancashire
"The CLEO network requires significant amounts of data to be carried between sites as cost effectively as possible. Our focus was to drive best value by designing a scalable solution with capacity for future upgrades to be undertaken simply and effectively. We have used modern fibre technology to produce a bespoke, future proof communications platform capable of providing cable solutions for the long term."
CLEO purchased the network via the OGC framework, for which Siemens holds Catalyst supplier status. This enabled CLEO to benefit from advantageous pre-agreed terms and conditions. The OCG buying solutions process is EU compliant and means that public sector organizations can save time and money by having direct access to suppliers who have already been fully vetted and approved, thus ensuring best value for the public.
The first stage of the project is due to be completed by March 09 and the next phase will involve a further 13 schools across the area.
Download PDF version