Compare RDM020A-IDF028 with NIC950PRO
(2)
| | | |
| --- | --- | --- |
| | Messoa RDM020A-IDF028 | Messoa NIC950PRO |
| Colour Type | Colour / Monochrome | Colour / Monochrome |
| Resolution TVL | 2 MP | 540 |
| Dome Type | Static | Continuous Rotation |
| Digital (DSP) | ✔ | ✔ |
| Voltage | PoE | 24 V AC |
| Focal length | 2.8 mm | -- |
| Compression | H.264, MJPEG | MPEG-4 |
| Chip Inch Size | -- | 1/4 |
| Sensitivity lux | -- | 0.0005 |
| Pan Speed o/ sec | -- | 430 |
| Tilt Speed o/ sec | -- | 200 |
| Indoor/Outdoor | -- | Indoor/Outdoor |
| Rotation Angleso | -- | 360 pan, 92 tilt |
| Back Light Compensation | -- | ✔ |
| Auto Gain Control | -- | ✔ |
| White Balance | -- | ✔ |
| Electronic Shutter range | -- | 1/1 ~ 1/10,000 sec |
| S/ N (Signal/ Noise) Ratio dB | -- | >50 |
| Synchronisation | -- | Internal / Line Lock |
| Signal Mode | -- | PAL, NTSC |
| Built-in IR LED | -- | ✔ |
People also viewed these products
Featured security companies
Related Videos
5 Common Mistakes When Installing Video Security System
Hikvision #SeeClear Campaign Overview Launch MESSOA Network Cameras Secure Santa Rosa International Airport In Ecuador
In early 2010, the Santa Rosa International Airport in El Oro, Ecuador opened to the public. This airport deals with both cargo and passenger traffic. The new airport will enable growth and development for Ecuador by encouraging new opportunities for growth in business and tourism. It offers flights to major cities in Ecuador like Guayaquil and Quito as well as the United States. The US$44 million international airport includes a 5,000 sq. m. terminal building. A 2,000m x 45m runway is capable of handling some of the world's largest aircraft. Security was the primary concern for the Ecuadorian government. They needed to be able to monitor passengers the entire time they were on the airport premise. Crystal clear images were required to make identification simple. To meet these challenges Santa Rosa airport selected cutting edge MESSOA IP-cameras for their video surveillance system. Traditional analog CCTV had many limits such as expensive installation cost over large areas and requiring the use of many obtrusive cables. IP solutions offer a single, scalable, integrated solution which provides high-quality video surveillance at a fraction of the cost. A total of 44 network cameras were installed to monitor the full range of the airport. Four different camera models were selected for their strengths. 40 sets (NIC830 + NIC835) were chosen because they used Power Over Ethernet (PoE) thus reducing hardware requirements. The NIC830 and NIC835 are equipped with an SD card slot that enables round-the-clock monitoring, ensuring that the camera can store captured images even in the event that its network connection goes down. Also, they employ MESSOA's high sensitivity Lumii™ II technology, which delivers sharp and highly detailed images even in light as low as 0.05 lux. 4 sets (NIC930PRO + NIC950PRO) were chosen for their wide coverage area and ability to get detailed images even while using digital or optical zoom. A hybrid (CCTV/network) output ensures that repairs are quick and easy. A 360° continuous pan operation range with a max pan speed of 430°/sec. and a 92° tilt with a max tilt speed of 200°/sec. ensure a quick response time. 0.02° Super Fine Pan allows users to smoothly and accurately track subjects even when zoomed. These solidly built cameras are suited to round-the-clock monitoring applications and feature a vandal-proof and water-proof housing that enables it to capture crucial images even in extreme conditions.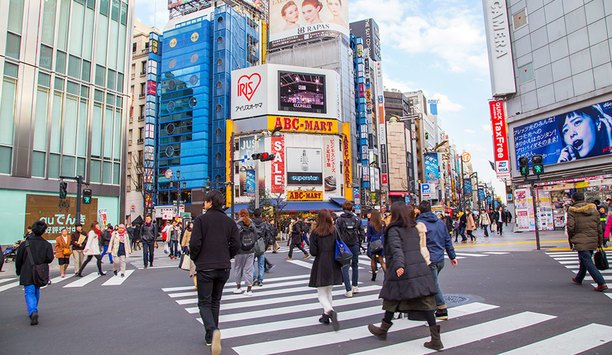 MESSOA Maven IP Cameras Secure Tokyo Shopping District
The cameras deliver exceptional image quality for accurate identification at crime-prone spots The shopping District, or Shoutengai, in Koto-Ku, Tokyo is located next to a busy train station that gathers many restaurants, shops, and sake bars together in this newly vibrant neighborhood. As the area becoming more commercially alive, there was an increasing concern for crimes taken place within the district, especially during late nights. For the purpose of crime prevention, the Shopping District Association began to consider deploying surveillance cameras at the crime hot spots as a way to strengthen the public safety in the neighborhood. Yet with its limited finances, the association had to look for an effective solution at a lower cost that would cope with its tight budget. Solution With the help from MESSOA, more than 60 Maven series NCR365 IR bullet cameras and a dozen of NOD385 IR dome cameras were introduced in this project. Equipped with a 3MP CMOS sensor and removable IR-cut filter for 24/7 monitoring, these cameras deliver exceptional image quality for accurate identification at crime-prone spots. Both cameras support onboard memory with microSD card slot that utilizes edge recording technology. Up to 64GB of HD quality CCTV footage can be recorded locally on each camera without the need of installing NVRs, saving a significant amount of installation costs. Structure-wise, both the NCR365 and NOD385 are IP67 certified, featuring built-in heater and weatherproof enclosure to ensure the cameras are capable of withstanding any harsh environments in Japan, particularly in winter times. Result By utilizing the edge-based recording technology, the whole project eliminated the need for a centralized recording server or storage, helping the association saving a great deal of costs as planned. This solution did not compromise reliability thanks to SD card's solid state without any moving parts like a hard drive. The files can be securely stored and easily retrieved when needed. The motorized lens with auto focus of the NCR35 provided benefits to the project as well by drastically facilitating the time-consuming installation. Technicians were able to get the job done fast with easy by taking advantage of remote configuration with simple mouse clicks. The simplified set up cut the installation process short and saved lots of labor costs as result. MESSOA Ensures A Safer Nightlife For Customers At Sorbonne Rotterdam
12 MESSOA NDF820 IP dome cameras were employed to make mobile access possible Sorbonne is a popular dance café located in the center of Rotterdam, the Netherlands. The two-storey pub opens 7 days a week, offering dining services during lunch/dinner hours and turning into a lively nightlife venue late in the evening. However, situated in the heart of the most unsafe city in the country, the owner of Sorbonne is concerned with any crime-related incidents that are likely to happen in the block, as well as within the pub. To protect his customers and employees, he was prompted to deploy security cameras. He additionally requested for remote monitoring accessibility to real-time streaming video on mobile devices to keep an eye on what goes on around the pub. Solution Sorbonne turned to XSERIUS, a local system integrator partner with MESSOA, for professional installation. To make mobile access possible, a network IP surveillance system seems to be the only viable choice to go with for this project. Meanwhile, taking the complexity of lighting in a nightclub environment into consideration, it is essential to deploy a network camera with outstanding imaging performance in difficult lighting conditions to meet the harsh requirements. After identifying Sorbonne's needs, XSERIUS, with its extensive proficiency in IP technology and a wide spectrum of client base, recommended MESSOA, namely the NDF820 IP dome camera, to do the job. A total of 12 NDF820 are strategically positioned both inside and outside of the pub to get a comprehensive overview of the entire premises. Overcoming Ambiance Lighting Inside The Pub All sorts of lightings may be encountered in an environment like nightclubs, where there may be dim lighting, multi-colored lighting or even strobe lighting for creating such ambiance on the dance floor. But from the security's point view, this poses a serious threat for cameras from capturing useful images while adjusting to the constantly-changing lighting background. The NDF820 features digital day/night capability to dynamically adapt to complicated indoor lighting environment. The camera is further powered by the proprietary Lumii™ imaging technology that significantly enhances light sensitivity and noise reduction to deliver crisper images in the low-light settings. The Full HD 1080p resolution adds to the already superior image quality that NDF820 has to offer. Remote Monitoring Using Mobile Devices Local system integrator XSERIUS installed MESSOA NDF820 IP dome camera To achieve remote access from mobile devices as required, the ONVIF-compliant NDF820 is flawlessly interoperated with the NVR and a spotter app from Mirasys designed for Smartphone and tablet PCs. The app in combination with MESSOA cameras allows the user to view live video streams and to access recorded footage remotely in superb picture quality. Design-wise, the vandal-resistant casing of the NDF820 is able to protect the camera from external impacts, while its low-profile look blends perfectly in the modern pub interior. Benefits After the surveillance system is in place, the staff at Sorbonne now has a much more effective tool to help them when they are trying to validate any brawl or confrontation that may happen inside the pub from time to time. The owner could also be notified in the first place via his mobile device should any incident occur and make necessary arrangement to solve it remotely without having to be physically on-site. Risks of robbery and other crime activities are also expected to drop in the long run with the help of high-definition recorded footage as the most powerful proof. "The deployment of surveillance technology not only helps us make sure the safety of our guests as they are having a fun night out at Sorbonne", the owner remarks, "it also comes with other add-on values as I could stay posted with what goes on in the pub anytime and make sure the business is running smoothly even when I am away traveling on the road."