Compare SD8332E with SD8364E
(2)
| | | |
| --- | --- | --- |
| | VIVOTEK SD8332E | VIVOTEK SD8364E |
| Colour Type | True Day / Night | True Day / Night |
| Resolution TVL | 720 pixels | -- |
| Dome Type | PTZ | -- |
| Indoor/Outdoor | Indoor/Outdoor | Indoor/Outdoor |
| Presets | 128 | 256 |
| Compression | H.264, MPEG-4 and MJPEG | H.264/ MJPEG/ MPEG4 |
| Chip Inch Size | -- | 1/3 |
| Sensitivity lux | -- | 0.03 |
| Pan Speed o/ sec | -- | 0.05 ~ 450 |
| Tilt Speed o/ sec | -- | 0.05 ~ 450 |
| Digital (DSP) | -- | ✔ |
| Voltage | -- | 24 V AC |
| Focal length | -- | 4.3 ~ 129 mm |
| Back Light Compensation | -- | ✔ |
| White Balance | -- | ✔ |
| Electronic Shutter range | -- | 1/1 ~ 1/10,000 sec |
People also viewed these products
Featured security companies
Related Videos
5 Common Mistakes When Installing Video Security System
Hikvision #SeeClear Campaign Overview Launch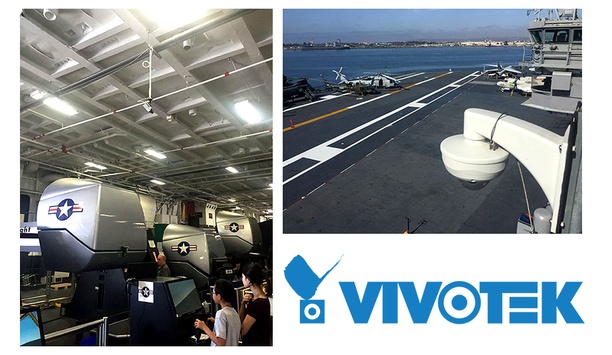 VIVOTEK Delivers Optimal Security Coverage At USS Midway Museum In San Diego, California
Decommissioned in San Diego, California, the USS Midway served from 1945 until 1992, as the longest-serving American aircraft carrier of the 20th century. The historic naval ship museum opened to the public for tours on June 10th, 2004, and receives 1,000,000 visitors annually. The USS Midway's mission is to preserve, inspire, educate, and entertain visitors as well as serve as America's living symbol of freedom. Video Surveillance System Throughout USS Midway's 47 years of service, the aircraft carrier played key roles in the Cold War, served with the Atlantic Fleet, was combat deployed in Vietnam as well as the Arabian Gulf for Desert Storm, and many other operations throughout the world. The aircraft carrier is home to flight simulators, a gift shop, café and a theater, measures 1,001 feet long, and contains 18 decks. The large number of tourists, volunteers, and museum staff occupying the facility, along with the many events held on-board on any given day, make safety and surveillance a top concern for the museum's Board of Directors. Earlier this year, Director of Safety and Security, Bill McClurg, with the full support of the CEO and the museum's board, led a team of USS Midway department directors including information technology, finance, and operations, and launched a project designed to update and improve the museum's existing video surveillance system. The process culminated in the selection of VIVOTEK's valued partner, Layer3 Security Services, a systems integration company headquartered in San Diego that serves companies, government agencies and institutions throughout Southern California. Network Cameras The new video surveillance system features dozens of VIVOTEK network cameras including fixed domes, box cameras, and Pan Tilt Zoom models. "There were many reasons for selecting VIVOTEK for this demanding application," said Dario Santana, President of Layer3 Security Services. "These include the breadth of VIVOTEK's product line, the high degree of integration with ExacqVision's VMS platform, and the products' superior price and performance. In the end, it only made sense to select VIVOTEK for the USS Midway upgrade," concluded Dario. In the end, it only made sense to select VIVOTEK for the USS Midway upgrade" VIVOTEK's FD8365HV and FD8338-HV fixed dome network cameras were also positioned in areas in need of surveillance. Both camera models are able to withstand inclement weather and the IP66 and IK10-rated housing protects the unit against acts of vandalism, making these units a great selection for installation aboard the aircraft carrier. A variety of camera models were chosen to monitor specific areas of the museum and surrounding areas. VIVOTEK's FD8373-EHV fixed dome network cameras were installed throughout the premises due to the 3-megapixel wide dynamic range CMOS sensor's excellent ability to adjust to challenging lighting conditions. The WDR Pro feature allows the camera to capture both the dark and bright areas of an image and combine the differences to generate a highly realistic representation of the original scene. Zooming Capabilities Working closely with Layer3, Bill McClurg also chose SD8364E, speed dome network cameras for the zoom capabilities in parking lot as well as ship deck monitoring and IP8155HP, box network cameras. VIVOTEK's SD8364E 1080p full HD resolution speed dome delivers superb image quality with its 30x optical zoom lens, perfect for monitoring wide open spaces. SD8364E's IP67 and NEMA 4X-rated housing protects against rain, dust, and corrosion as well as operates under extreme weather conditions making it suitable for San Diego's climate. The IP8155HP professional box network camera offers 1.3-megapixel resolution and WDR Pro II providing extreme visibility in high contrast environments. "Layer3 Security Services and VIVOTEK far exceeded our expectations with the installation of our new upgraded surveillance system. Layer3's ability to translate our needs into a workable design and their recommendation of VIVOTEK's superior yet efficient product line led to a successful deployment. Effective video surveillance on a museum, whose mission is to be, 'America's Living Symbol of Freedom,' is an essential element in preserving it for generations to come," said Bill McClurg, Safety Director. VIVOTEK IP Surveillance Solution Upgrades Security At Ag Processing Facilities In The US
AGP developed a total-surveillance system for the Algona facility with high quality component Ag Processing: Agricultural Cooperative At The Forefront Of The Global Economy Ag Processing Inc. a cooperative (AGP) has more experiences than almost any other company in the procurement, processing, marketing, and transportation of oilseeds, grains, and related products. Since 1983, AGP has expanded not only its experience, but also the extent of its vast network which now includes 172 cooperatives representing more than 250,000 farmers across the Mid-West United States, and additional regional cooperatives in the US and in Canada. AGP also serves as the largest Cooperative Soybean processing company in the world and is a leading provider of soybean meal and refined vegetable oils. Despite this complex network, AGP's mission is simple: help local producers earn more from their crops by linking them to markets around the globe. The Challenge: Updating Old Analog Surveillance Systems Agriculture is an old business, but AGP knows that the old ways of doing things aren't always the best. To continue its remarkable growth, AGP has always striven to find the latest techniques and technology in order to serve its producers and customers around the world. In 2012, AGP had to acknowledge that its old surveillance systems were no longer meeting the requirements of AGP's growing business. Throughout many of AGP's plants and facilities, analog video systems were still being used - the time was ripe to update to a digital, IP based system that could be developed and installed across all of AGP's many facilities. The acquisition of a new facility at Algona Iowa, presented an excellent opportunity to bring its surveillance system up to date, so AGP reached out to system integrators Hyperion, who set about looking for the best possible surveillance system to suit AGP's needs. The Solution: VIVOTEK And AGP, A Growing Relationship AGP's search for the best possible IP based video surveillance system let it to the VIVOTEK brand. Working closely with Hyperion, AGP developed a total-surveillance system for the Algona facility that incorporated high quality components delivered at a cost effective price. With this first step, the seed of a long term business relationship had been planted. Since 2012, AGP has installed VIVOTEK IP surveillance systems across twelve of its facilities, including its corporate office in Nebraska, four facilities in Iowa, two in Texas, and more across Minnesota, Missouri, New Mexico and other locations. AGP, a cooperative that loves to see good things grow, now sees a future in which further VIVOTEK systems are added as opportunities arise. "With the help of VIVOTEK and Hyperion, AGP has been able to build and maintain an ever growing system which we are able to control from a centralized location" Sandy Mason, Director of Labor Relations and Security for AGP, doesn't mind spilling the beans about his appreciation for VIVOTEK: "With the help of VIVOTEK and Hyperion, AGP has been able to build and maintain an ever growing system which we are able to control from a centralized location. VIVOTEK Management, Sales and Tech services are very attentive to our concerns and needs and understand that each of our locations has diverse, specific requirements." The Right Tools For The Right Job - AGP Adopts A Wide Range Of VIVOTEK's IP Cameras Covering such a wide range of facilities across a network as large as AGP's, requires an equally wide range of surveillance solutions. One of the factors that led AGP to work with VIVOTEK, was VIVOTEK's diverse range of IP Network Cameras, which together allowed AGP to meet all of its surveillance needs. AGP has to date installed over 500 cameras across its facilities, and will continue to add further cameras. Cameras already installed include the SD8363E Speed-dome Network Camera with 20x Zoom and extreme weatherproofing; the SD8364E, with built in defog function; and the IP8362 network bullet camera with focus assist and WDR, allowing high quality and highly usable images even in difficult lighting conditions. Other models installed include the vandal-proof Day & Night fixed dome network camera FD8151V, and the low-profile, but-wide range fisheye FE8174 with 360 degree surround view and local dewarp to allow any section of an image to be viewed more naturally. VIVOTEK's latest innovative and market leading IR fisheye FE8181 and FE8181V were also installed in this project. Both cameras are furnished with a removable IR-cut filter for Day & Night functionality, and a built-in 10 meter IR Illuminator for uniform lighting across a 360° surround view, guaranteeing the image quality throughout the entire day. Few more cameras with superior image process capability and WDR Pro technology are also adopted, such as FD8137HV, FD8365EHV and IP8165HP. "The biggest selling point VIVOTEK has, beyond its top-of-the-line-equipment, is its knowledgeable, service-oriented personnel who go above and beyond to insure we are happy with the product and that the product works as described. VIVOTEK has become a total IP Surveillance company for AGP" Top Of The Line Technology – Top Notch Support, VIVOTEK Becomes AGP's Total IP Surveillance Provider AGP's business is complicated. Its commitment to producers and customers around the world relies on the smooth cooperation of an enormous network of farmers and other cooperatives. In committing to upgrade its surveillance systems to the very latest technology, AGP needed to be sure that this wouldn't require time consuming installation or complicated ongoing maintenance. Thankfully, VIVOTEK's IP network camera systems are easy to install, and VIVOTEK's after sales service ensured that AGP was able to concentrate on growing its own business. Mr. Mason praised this aspect of VIVOTEK's service: "The biggest selling point VIVOTEK has, beyond its top-of-the-line-equipment, is its knowledgeable, service-oriented personnel who go above and beyond to insure we are happy with the product and that the product works as described. VIVOTEK has become a total IP Surveillance company for AGP." Mr. Mason went on to say: "VIVOTEK's philosophy states Integrity, Care, and Innovation. VIVOTEK lives up to that philosophy and they are the company I refer to before any other." So now, the cooperative can concentrate on fulfilling its mission and serving its customers and producers, secure in the knowledge that VIVOTEK is there, working alongside AGP and helping it fulfill this mission. VIVOTEK PTZ Dome Network Cameras Secure Turkish Soil And Water Conservation Bureau
VIVOTEK's IP8365H features Wide Dynamic Range (WDR) technology, which improves camera image quality The Turkish Soil And Water Conservation Bureau The Turkish playwright and novelist, Mehmet Murat ildan once said "Sand is for fun; soil is for life." Well, Mehmet's respect for the natural resources of Turkey is shared by people of the Turkish Soil and Water Conservation Bureau, who work tirelessly to protect and preserve these vital natural treasures for future generations of Turkish people. The Bureau's work is considered fundamental to the health and security of the great country of Turkey, as well as important for its ongoing development as a nation. The Challenge: Establishment Of Plant-Monitoring Office In 2015 the Turkish Soil and Water Conservation Bureau realised the need to provide surveillance and thus security to its office site. To fulfill this important task, the bureau decided to establish a purpose-built central monitoring office from which the entire area could be monitored and secured. The central monitoring office would face a serious challenge however as the office site broad open spaces not only needed to be covered in wide angle views, but individual areas of interest would also need to be studied closely and in fine detail. To make the challenge even greater, the office site outdoor areas were subject to high contrast lighting conditions during the day and very low light over nights. With these requirements in hand, the Bureau reached out to system integrators Fibercom and distributors ONCU to help them find the perfect surveillance system for their office site. The Solution: VIVOTEK PTZ Camera Fibercom and ONCU had a simple answer to this complex challenge – VIVOTEK. Having years of experience dealing with diverse surveillance demands, VIVOTEK has developed an impressive toolkit for any challenge. To provide both wide coverage and close detail, VIVOTEK developed the Panoramic PTZ solution, combining the wide range of a fisheye network camera and the high speed zoom and fine detail of a speed dome network camera. Panoramic PTZ combines these two unique cameras into one powerful, all-seeing surveillance system. At the monitoring station, this synergy was realised through the combination of the VIVOTEK FE8174V 5MP fisheye network camera and the VIVOTEK speed dome network camera SD8364E. Working in tandem, the two cameras allow users to simultaneously monitor an area overview from a fisheye model while providing the capability for a detailed regional view from a speed dome. The VIVOTEK megapixel fisheye camera provides 360° surround view without blind spots, while the VIVOTEK speed dome provides fast, precise pan/tilt/zoom movement through its robust design and captures details with precise quality from extreme distances. With this perfect pairing of hi-tech cameras, every inch of the office site could be tightly monitored and recorded. VIVOTEK IP8365H With WDR Not only did the office site's grounds need to be monitored both broadly and in fine detail, they also needed to be protected no matter what the lighting conditions, no matter what time of day or night. To provide superb image quality in any light, Fibercom and ONCU reached for VIVOTEK's IP8365H Bullet Network Camera. The IP8365H features Wide Dynamic Range (WDR) technology, which improves a camera's image quality under high-contrast lighting conditions where both dimly and brightly lit areas are present in the field of view. It enables the camera to capture details clearly in both the poorly and strongly illuminated areas of the video. Thus WDR allowed the monitoring office to view clear and vivid imagery even in the harshest glaring light. When the sun goes down on the plant, the IP8365H keeps working. A professional day/night camera, the IP8365H is armed with 30 meter IR and Smart IR technology which prevents overexposure by adjusting the IR lighting intensity instantaneously based on the changes of light in the ambient environment. To add to this, the camera is also equipped with 3D Noise Reduction Technology, which enables the IP8365H to capture clear, polished video under low-light conditions and reduce bandwidth from sensor noise.