Compare SD8362E with BS5332E
(2)
| | | |
| --- | --- | --- |
| | VIVOTEK SD8362E | VIVOTEK BS5332E |
| Colour Type | Colour / Monochrome | Colour / Monochrome |
| Resolution TVL | 1080 | -- |
| Dome Type | Continuous Rotation | PTZ |
| Indoor/Outdoor | Outdoor | Outdoor |
| Voltage | 24 V AC | 24 V AC |
| Rotation Angleso | 360 pan, 90 tilt | -- |
| Presets | 128 | 128 |
| Compression | H.264, M-JPEG, MPEG-4 | H.264, MJPEG, MPEG-4 |
| Chip Inch Size | -- | 1/4 |
| Sensitivity lux | -- | 0.001 |
| Digital (DSP) | -- | ✔ |
| Back Light Compensation | -- | ✔ |
| Auto Gain Control | -- | ✔ |
| White Balance | -- | ✔ |
| Electronic Shutter range | -- | 1/1 ~ 1/10,000s |
| Built-in IR LED | -- | ✔ |
People also viewed these products
Featured security companies
Related Videos
Honeywell E-Mon Class 6000 Energy Meter
Axis Communications Q1615/-LE Mk III Network Cameras
Dahua VMS Deployed In Autoacdromo di Imola VIVOTEK IP CCTV System Installed At Siam Paragon Shopping Centre In Thailand
VIVOTEK's Supreme Series cameras ensure customers' security at the shopping center Siam Paragon, the eponymous shopping center built by Siam Paragon Development Co. Ltd., opened its doors to the public in 2005. The complex was well received and has since enjoyed eight years of steady fanfare, enough time and growth to warrant a comprehensive CCTV system upgrade. Moving Toward the Intelligence Overhauling the eight-year-old CCTV system involved a delicate process of replacing the original coaxial cable with a new UTP cable. Both systems had to be fully operational for the entire duration of the swap, running parallel to each other until the new cable was successfully in place. Only once the new CCTV system was completely installed could the old system be disengaged. Aside from the tricky hands-on aspect of the upgrade, time pressure further presented a twofold problem. First of all, the project had to be completed within four months. Even under normal circumstances that is a relatively tight deadline, but there was yet a second catch: work could only commence after shopping hours. When the Siam Paragon closed its doors for the night, a new wave of activity was set in motion on the inside. Thankfully the team was able to pull off the project in due time, and the migration to VIVOTEK's new system proved fruitful. The project served as a testament to the nature of VIVOTEK's clientele. The discerning customers in Thailand have an eye for quality, which was the only factor they had to consider given their flexible budget. They compared VIVOTEK products to those of the industry's top 5 leading brands and decided on upgrading to VIVOTEK's full IP CCTV system. VIVOTEK's Supreme Series products come with an impressive host of features, including Full HD, WDR sensors, IR illuminators, and top of the line Day/Night cameras. For VIVOTEK's distributor TSOLUTIONS, who won the bid for this project, the choice was obvious. Siam Paragon installed a total of 700 cameras ranging from five of our models: FD8161, FD8162, SD8362E, IP8362, and MD8562. TSOLUTIONS proposed VIVOTEK's Supreme Series for this project to maximize customer benefit. VIVOTEK's cameras, coupled with intelligent video system NVR, provide the option of full function analytics: People Counting evaluates the number of visitors per given period of time; Point-of-sales integration assists in Loss Prevention, allowing desired footage to be accessed almost instantaneously; Face Detection captures the face images and indexes them for easy investigation, should the need arise. Using this technology any suspicious activity or alarm triggering events can be analyzedwith ease. The integration of this system with VIVOTEK's cameras not only provides great image quality, but also ensures that customers at Siam Paragon have a safe and secure shopping environment. Advanced Security, Enhanced Safety After Siam Paragon migrated to the new IP CCTV system, the upgrade exceeded Mr. Wornphom Kerdniyom's expectation. Wonphom, who is the BAS Manager of Siam Paragon, commented on the new system, "We can see major improvements in the image quality, especially during strong sunlight. The increase in resolution from D1 to Full HD is also remarkable, now we can get clear visuals of customers' faces from 15 meters away."" The system utilizes a comprehensive networking design as a module, meaning there is no single point of failure, a brilliant safety feature to which Wonphom remarked, "the system comes with a brain that accurately triggers the alarm, and it does so right upon setup, it's very intuitive. If we have an intruder entering a hot zone, the alarm is set off and our operators can respond in real time. Besides, we provide the back-up storage inside SD Card of the camera itself to ensure that in case of network congestion problem, we still got the video footage, together with NVR Failover system, when some NVR got problem, we can move that NVR to record in Failover Server Instead. We thank TSOLUTIONS that bring the great VIVOTEK IP CCTV system to Siam Paragon." With the new system in place, Thailand's top shopping center just got a little bit better. VIVOTEK's Security Surveillance Solution Deployed At Sama College, Iran
Sama College has deployed high-performance security network cameras from VIVOTEK Background Founded in 2004, Sama Technical and Vocational Training College is affiliated with Islamic Azad University, one of Iran's premier institutions of higher learning. As part of the University's branch spreads throughout the cities on the west side of Kermanshah, there has been a pressing need for the College to expand and enhance its infrastructure as rapidly as possible in order to satisfy the students, the faculty members, the staff and other stakeholders. This expansion has led Sama College to embark on a multi-year project to deploy and extend a surveillance solution provided by VIVOTEK. Solution Pouya Fara Negar (PFN), a highly esteemed distributor of VIVOTEK in Iran, has worked with system integrator Gostaresh Informatics to implement the project, which relies on a range of VIVOTEK cameras and its in-house ST7501 software. According to PFN, the project commenced at Sama College Building No. 1 in 2006 with the installation of a combination of VIVOTEK IP7131s and FD7132s. In later years, additional VIVOTEK cameras were deployed to extend the security system to Building No. 2. In the latest phase of the project, which rolled out over the past year or so, Sama College has extended the security system to the newly constructed Building No. 3 and a workshop facility, outfitting each with an ST7501 server along with high-performance network cameras from VIVOTEK, while strengthening the existing security system at Building No. 2. Cameras installed during this phase include the FD8134, the IP8332 and the SD8362E. Even at night, with IR illuminators effective up to 15M, the bullet camera guarantees superior image quality around the clock According to Sahar Hadian from PFN, the FD8134 is chosen for monitoring indoor areas, mainly hallways. With the 3-axis mechanical design for ceiling/wall mount installation, the compact, user-friendly fixed dome has always been a favorite among system integrators and installers. As for outdoor areas, the IP8332 is selected for large outdoor public spaces, such as student lounges, court yards and hangout spots on campus. Even at night, with IR illuminators effective up to 15M, the bullet camera guarantees superior image quality around the clock. Last, but not least, the SUPREME, full HD SD8362E plays a vital role in watching over the grounds around the buildings, as the 20x zoom lens enable the speed dome to capture sharp details at an extensive distance. The device also incorporates Wide Dynamic Range (WDR) technology, allowing the device to be able to capture clear footages even under challenging lighting conditions. Customer Feedback Hadian indicates that excellent quality and reasonable cost are the reasons why the management members of Sama College have put trust in products from VIVOTEK. She also reports that their actual performance in operation, as well as the robustness of the ST7501 management, makes it an easy choice for the College to continue working with VIVOTEK for the remaining part of the project. Hadian notes that with the level of complexity and difficulty of this project, the fact that the decision makers at the College have maintained their favour of VIVOTEK products is a testament to the ability of VIVOTEK teams to satisfy the requirements of demanding applications.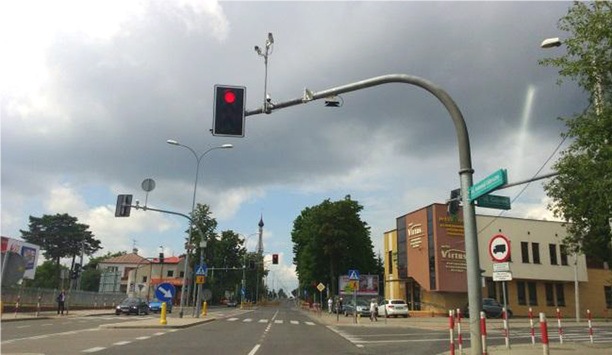 VIVOTEK Fisheye Network Cameras Help Bialystok Update Municipal Traffic Monitoring System
Bialystok, a beautiful historic city of 300,000 in the northeast of Poland, is one of the nation's major population centers. Devastated in World War II and languishing for a long period afterward, the city has seen a renaissance in recent years, with restoration of its beautiful architecture and modernization of infrastructure as the Polish economy has boomed. One particular change that has come upon this serene city with unexpected rapidity is the increase in car ownership, which has more than tripled in Poland since 2005. Over the last decade, the growing need for an up-to-date, comprehensive traffic monitoring system has become increasingly apparent. Surveillance Enhancement For Traffic Surges The growing need for an up-to-date, comprehensive traffic monitoring system has become increasingly apparentCameras were the most costly item within the traditional traffic surveillance system originally deployed in Bialystok. To capture as many angles as possible, large numbers of cameras were required, often several at each intersection. As well as being an eyesore, this also meant that the cost of linking and synchronizing the array of cameras to the central surveillance system was exorbitant. To avoid impacting traffic, which is heavy during the daylight hours, installation and construction work was usually carried out at night. The restricted hours for installation caused long delays in camera setups. Worse, the system itself no longer met the needs of the rapidly developing city. Despite the large numbers of cameras, the field of view of individual cameras was too narrow and when accidents happened it was difficult to try to piece together footage from several cameras in an attempt to reconstruct the incident. Often, there was no way to determine from the footage just who was at fault. A better solution was needed. Seamless Collaboration To Seamless Implementation Zarzad Dróg Miejskich (ZDM), the municipal unit responsible for the road system in Bialystok needed to revamp, simplify, and upgrade their inefficient traffic camera system, so they worked with systems software manager Siemens and engaged VIVOTEK's local distributor Suma Solutions to come up with an answer that would meet their needs. Siemens developed the system software around technology provided by VIVOTEK, a provider of IP surveillance solutions, offers dedicated traffic surveillance and management solutions, and has recently released its remarkable FE8174V H.264 5-megapixel fisheye network camera. The hemispherical images captured on camera can be automatically retooled to conventional projection specifications for easy viewing The FE8174V is VIVOTEK's fisheye network camera. This vandal-proof, WDR-enhanced, day/night camera features a detailed 5-megapixel resolution sensor with superior image quality. Its fisheye lens captures a 180° panoramic view when wall-mounted, and a stunning 360° surround view with no blind spots when mounted overhead. With its choice of display layouts—surround view, panoramic view, and regional view—it is the perfect solution for those who need coverage of wide, open areas as well as a high degree of flexibility. With the advanced image processing capabilities, the hemispherical images captured on camera can be automatically retooled to conventional projection specifications for easy viewing. As the camera's primary application is outdoors and demands reliability in all conditions, a weather-proof IP66-rated and vandal-proof IK10-rated housing keeps the camera body clear of rain and dust and maintains functionality in all types of weather. The VIVOTEK FE8174V features a removable IR-cut filter, which is unquestionably the best choice for those who need a hardy, all-weather, 24/7 system with a full range of coverage. Enhanced Resolution Means Better Traffic Safety ZDM installed 130 VIVOTEK FE8174V cameras at intersections throughout Bialystok. Now, with far fewer cameras, traffic controllers can get a clear, sharp overview of the whole field without any blind spots.VIVOTEK's fisheye camera dewarping capabilities allow monitors to adopt different presentation modes A single VIVOTEK FE8174V provides the coverage of four outdoor bullet cameras in one image, and has resulted in cost savings at the same time as providing more complete coverage. Fewer cameras has also meant a decrease in costs associated with the backend management platform, network communications equipment, and storage equipment; it has also protected the aesthetic properties of the city by decluttering the skyline. Further, VIVOTEK's fisheye camera dewarping capabilities allow monitors to adopt different presentation modes. Now, Management Center operators can easily monitor and verify traffic incidents and use the image recognition software to increase traffic control efficiency. The city of Bialystok has finally achieved a traffic management and surveillance system that can keep pace with its rapid growth while remaining in harmony with the local culture and architecture.