OPTEX Security Camera Brackets
(1)
Browse Security Camera Brackets
Security camera bracket products updated recently
Optex ISeries Battery-Powered Wireless Detectors Enhance Construction Site Security By Countering Thefts
Multiple Construction sites in the Albuquerque area are managed by Shumate Constructors, Inc., an Albuquerque, New Mexico-based construction contractor, that is also renowned for building educational facilities. In addition to building schools from the ground up, Shumate Constructors completes school additions and remodels. Construction site thefts Three years ago, the company began having problems keeping thieves out of its construction sites during non-working hours. Unwatched construction sites are hot beds for a variety of thefts - from copper pipes and wire to hand tools to heavy-duty machinery. The loss of machinery, such as front-end loaders, would cost hundreds-of-thousands of dollars. Sometimes workers will arrive to a site in the morning only to find materials, such as copper pipe, gone along with their tools. Enhancing construction site security The sites also presented a challenge due to changing construction conditions The result is the loss of a whole day and sometimes multiple days of work. On top of the lost time, the contractor has to cover the cost of replacing materials, file an insurance claim for each theft and complete additional administrative paperwork that they weren't planning to invest time in. The sites also presented a challenge due to changing construction conditions. Equipment or storage containers are delivered and removed, the sites are graded/re-graded and as sections of build were completed, tools, materials and supplies were moved to different areas. Flexible, reliable wireless solution At a contractor trade show a few years ago, Mark Shumate, President of Shumate Constructors met Dave Meurer, President of Albuquerque's Armed Response Team. Meurer introduced Shumate to the idea of a flexible, reliable wireless solution that could continually monitor the entire site without the need to trench around the perimeter. "Mark [Shumate] was fed up with theft at his construction sites so we started to discuss some prevention ideas," said Meurer, adding "I knew this was a great fit for the combined Inovonics transmitter and Optex sensor solution." Optex sensors installed He further said, "At the Armed Response Team, we refer to this solution as the never sleeping, non-blinking eye. Shumate was not aware of any reliable solutions that could provide this type of theft prevention, but we explained that we were very confident in this application and he was definitely interested." To install each combined sensor, the Armed Response Team attached the Optex sensors to a freestanding steel post with a base plate on it and deployed them throughout the site. This allowed the flexibility to be easily moved to accommodate site changes. Once installed, a signal was easily achieved. iSeries Optex/Inovonics sensors The amount of iSeries Optex/Inovonics sensors needed at Shumate's sites vary The sensors in the combined solution often need to communicate as far as an entire city block and the perimeters can be several thousands of feet. The iSeries Inovonics/Optex solution was able to easily accomplish this feat. The amount of iSeries Optex/Inovonics sensors needed at Shumate's sites vary. For some sites, it can be as few as a dozen, and others it can be as many as 30 or more. "Together, the products offer a great solution," noted Meurer, adding "The Optex sensors can handle varying weather conditions and Inovonics' wireless connectivity offers less signal drop and more consistent reporting signal than any of the other transmitters we've tried." Efficient perimeter security solution "Between the perimeter technology by Inovonics and Optex, and the Armed Response Team's follow-up, we have seen zero thefts for all projects since installation. With the integrated wireless solution, the construction sites are monitored on a real-time basis and immediately notify the Armed Response Team upon unauthorized access," said Mark Shumate, President of Shumate Constructors. He adds, "We look at the perimeter security solution as a great investment. Annually, the cost of manpower, replacement of lost or stolen items and damage repairs could easily cost three times more than we spend on Armed Response Teams' services with the Optex and Inovonics solution."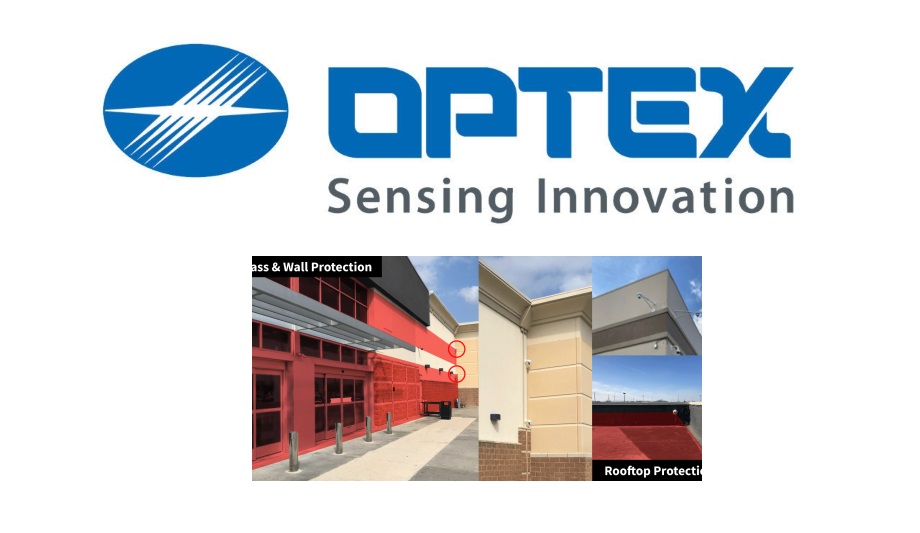 OPTEX Installs Redscan RLS-2020S Detectors To Secure Building Perimeters Of National Retail Stores Across The US
Burglaries from outdoor 'smash and grab' have been costing retailers millions of dollars of loss. In order to detect if someone is trying to penetrate retail store buildings, retailers need to deploy a detection system that triggers activity and activate cameras and authorities. Redscan RLS02020S detectors Utilizing the OPTEX Redscan RLS02020S vertical mode detection with Genetec RSA allowed the national retail company to achieve just this. OPTEX installed first 12 stores for a total of 105 RLS-2020S detectors for the initial project. Redscan covered the sides of the buildings as well as key areas of the roofs where needed. It was integrated into the Genetec RSA plugin that unifies OPTEX Redscan detectors with cameras creating full control of video recording and security events. Enhancing retail security Next opportunities are for installing RLS-2020S at 100's of stores across the United States in 2020-2021. Due to the success of Redscan, the national systems integrator is now introducing the value of this application for other large retail end users.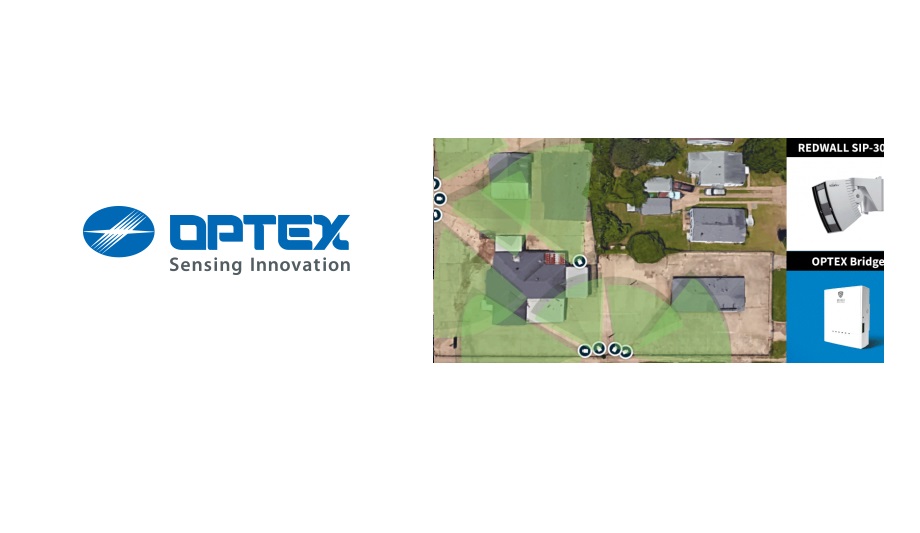 Optex Secures A Used Car Lot Perimeter With OPTEX Visual Verification Bridge And OPTEX Redwall SIP-3020 Motion Detectors
A used car lot owner had re-occurring issues with intruders cutting holes in the perimeter fence during night-time hours and vandalizing or burglarizing the area. The intruders would not enter the small office building, so the security system was never triggered. The customer did own a video surveillance system and it would record criminal activity but it did not prevent or deter crime. Integrating motion detectors Using the existing intrusion alarm panel (Interlogix NX8-v2 panel) and the existing video system, the system integrator introduced two OPTEX Visual Verification Bridges and four OPTEX Redwall SIP-3020 Outdoor PIR motion detectors. The motion detectors were installed over the two main perimeter light poles pointing into the lot with IP cameras located directly above each of the motion detectors. Access to camera visual With the two Visual Verification Bridges installed, the integrator can provide operators immediate access to eight live cameras during every alarm event. The Redwall SIP-3020 provided up to 30m of distance coverage and 20m width, complete with anti-masking and vandal tampers. With this simple but effective solution, the integrator was able to provide their customer with immediate visual verification of alarm sensors, only when the alarm panel is armed. Wireless key fobs were provided so the dealer can arm and disarm the system from outside the gate helping to eliminate false alarms during arming and disarming. Reduced false alarms Since the completion of this installation, there have been several nuisance alarms caused by cats that were immediately disregarded. Due to the visual verification solution there was no intrusion and the client has not had any vandalism or crime since. Per the customer's request, the OPTEX Bridge has been installed on three additional car lots.
Featured white papers
Automatic Vehicle Identification: State Of The Industry 2020
Download
How Analytics Engines Mitigate Risk, Ensure Compliance And Reduce Cost
Download
11 Considerations For Embedded System RFID Readers
Download